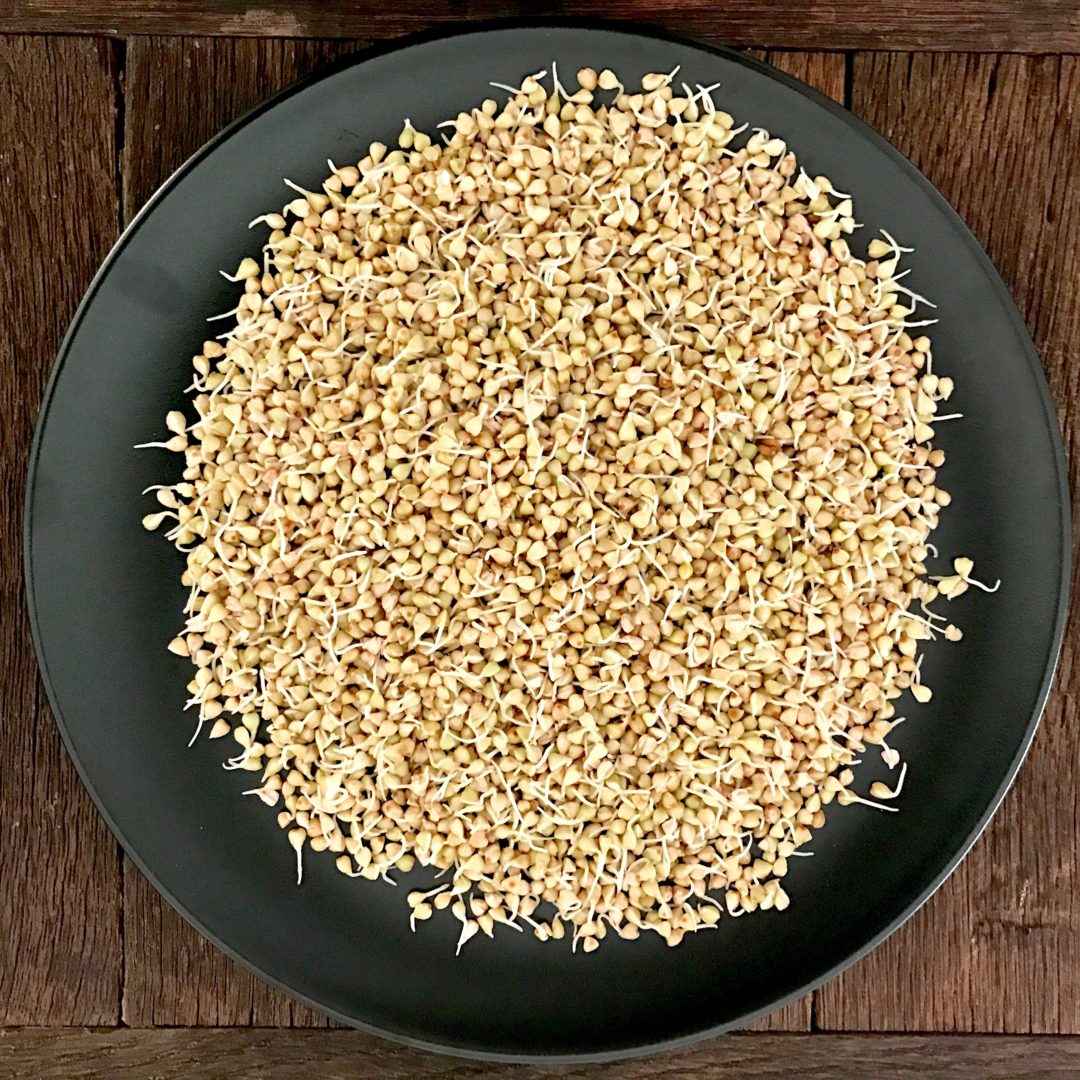 Sprouted-Toasted Buckwheat is one of the world's healthiest seeds. It's gluten free, and people can rely on for amino acids, vitamins, minerals and antioxidants!
I grew up eating Japanese soba noodles made with buckwheat, but I had no idea what buckwheat really was. However, trying to eat everything healthy the right way, I came across buckwheat. The first time I saw real buckwheat, I thought it was grain, but it is actually a seed!
Knowing about phytic acids in whole grains, nuts and seeds, I do a lot of fermenting and sprouting of these things before I cook them, and buckwheat is something I like to sprout too!
Sprouting anything sounds difficult, but don't let the sound of it stop you. To me, sprouting buckwheat is even easier than other kinds of seeds or beans. I'm writing this post while living abroad, and I didn't have all the equipment I used back home, so I am sprouting buckwheat with a recycled jar, and a basic strainer, and the result is great!
Once buckwheat sprouts, I toast it in a frying pan. I use Sprouted & Toasted Buckwheat with my salad, mixed into and sprinkled on top of coconut kefir, smoothies, and for any kind of food I want a nutty & crunchy taste.
Would you like to sprout buckwheat and toast them?
Things you need for Sprouted-Toasted Buckwheat:
About ¼ cup (85 g) of buckwheat groats

Filtered water

A medium size glass jar, strainer, a container to catch water
How to sprout it:
Put the buckwheat groats in a jar, and rinse them thoroughly. Fill the jar with water halfway and let it soak for one night.

After 1 night, drain and rinse them well. Place the jar and tilt it in a container, and put it on a quiet spot for 2 nights, but rinse it thoroughly every night.

You can see tiny sprouts everywhere–it's all sprouted!
How to toast it:
Rinse the sprouted groats thoroughly, and let it drain well.

Place it in frying pan with one layer on low heat and toast it 'til dried and look crispy. It doesn't take long, probably about 10-15 minutes!

Roughly grind some and put it in a jar for later use. Enjoy!
Have you done Sprouted & Toasted Buckwheat before? Please share it with me, I'd like to hear about it!