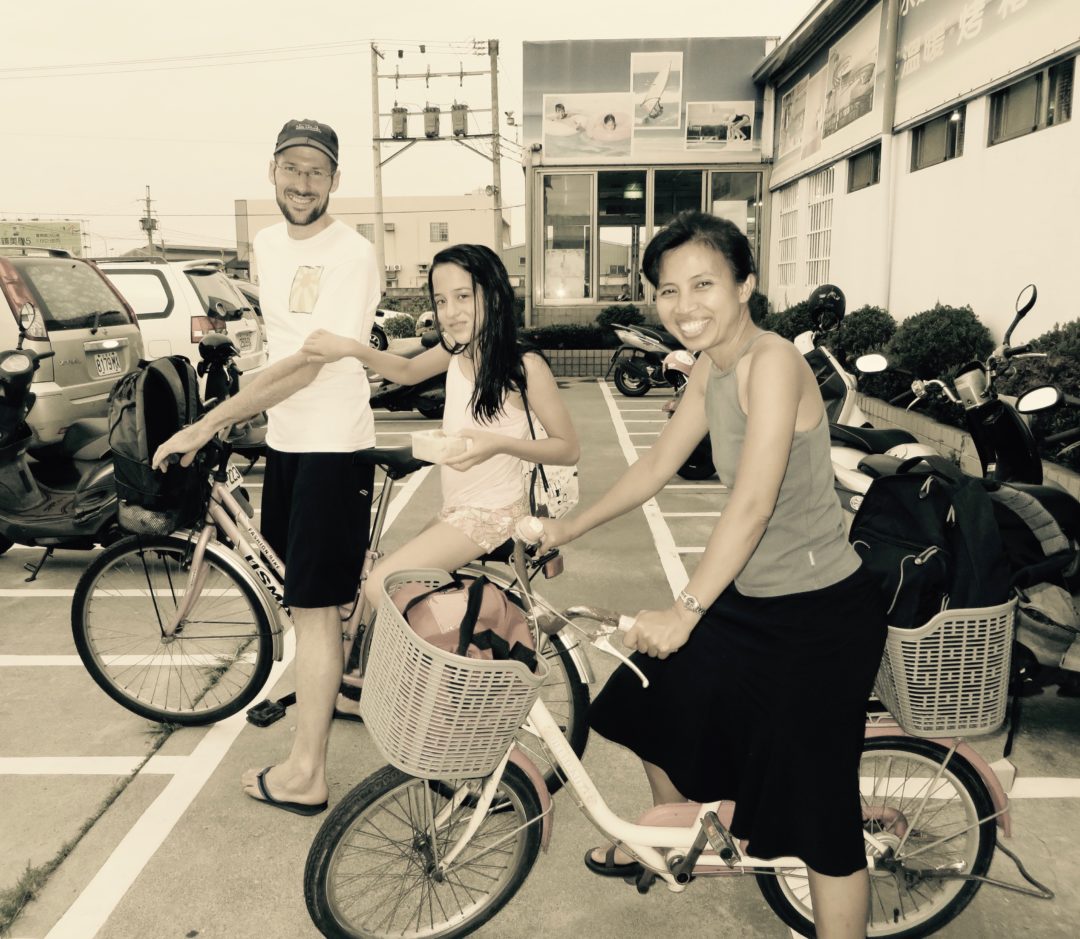 When I was ready for a change 20 years ago, travelling and getting away from my interior design work sounded great. I wanted to go somewhere completely different from where I was, so I got a visa and decided to explore the U.S. Once there, I discovered so many more options in life than just working and saving money for a future that I didn't even know what would be. I knew I made the right decision then, and I still do now!
Both my husband and I love traveling, but we didn't get to do much during the years when our daughter was still young. It's also nice to have extended periods of being completely dedicated to where you are. In fact when we live in other countries we also try to focus on being there and engaging the local culture as both residents and tourists.
In 2011, on the way back from Thailand we stopped in Taiwan and stayed for a week visiting both urban and more rural areas, thanks to a family friend. We were fascinated by the friendliness, kindness and generosity of Taiwanese people. We all agreed on the idea of spending a school year there, and started working toward that goal. Our first year living abroad as a family was in 2013-2014–as hoped.
What did we get after one year there? SO MUCH!, I hardly know where to start.
Here are top 8 benefits we get from living abroad.
Togetherness
We always do everything together as a team of 3. The togetherness we get from living abroad gives us more options on how we truly want to spend our time, usually together– of course!
   2. Moderated Workload  
We work so much, too much I should say when we are home in the U.S., with work-work, house chores, and our daughter's school & activities. Sadly, we become work slaves without knowing it sometimes.
     3. Simple Living
I never thought it would be possible to live somewhere for a year with only things that  can be packed in a suitcase, a carry-on, and a handbag. Yes, it's challenging, but we have learned that we don't need much to live happily!
    4. Life without a car
It is amazing how living without a car can give you so much freedom. We don't have to deal with the ups and downs of gas prices, parking issues, insurance, and maintenance costs, but we also discover new areas and local shops by walking and riding that some local people may not even know about. Of course there are environmental benefits too, as well as mixing a little exercise into our daily routines.
    5. Languages
The best way to learn languages is to throw yourself into a place where they don't speak your language. Its really true, and we have proven it.
     6. Culture 
To get to know and understand anything well, you need to give yourself enough time to soak it up. Every country has a unique and long history, and spending time to see the various holiday and weather changes really helps understand what works better or worse about another culture.   
      7. Friendship 
We have made lifetime friends without knowing we would.
      8. More options to choose in life
It certainly opens our eyes to more ways of living than we are used to.
How about you? Have you thought about living in a different country someday? Or, if you have done it before, could you share your experience with me? I'd really like to hear about it!