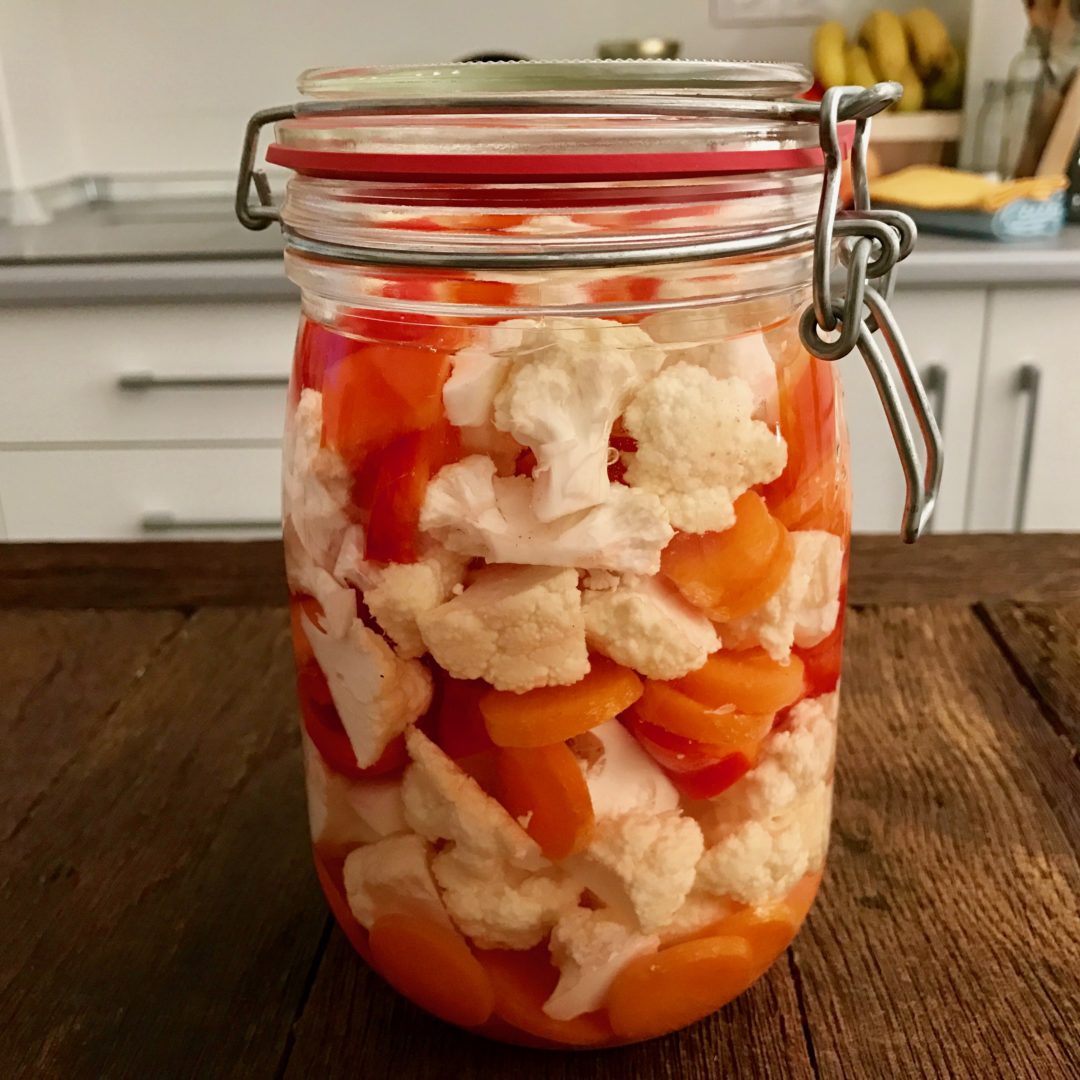 For sentimental reasons, what I'm going to write in this post reminds me so much of my childhood and what my mom did raising us. It's been so long since I left my Thai home. Thinking about my memories gives me a lump in my throat–oh how I miss those days!!
I remember seeing my mom's joy of growing vegetables in our garden. I also remember her pride in cooking and fermenting vegetables in our kitchen. We had a great garden by a river in our backyard, and my mom would plant everything she could think of in it all year round. I can still hear my mom's voice asking me and my sister to stop playing and go to the garden and get what she needed for her.
Vegetables such as lemongrass, Thai chilies, or limes were typical things for us then. Back in those days, seeing my mom work so hard to get simple food, that at the same time was sold everywhere, I wished she would go to the supermarket and buy everything just like other "modern families" did. I'm so glad she didn't do that now, and instead she went the extra mile to feed us well.
My pre-teen memories about my mom's foods changed when I was sent to junior high in Bangkok following my older siblings, where "modern foods" were introduced to me. The first time away from my mom, was my first time to try soda pop too. Knowing how bad it is for your health now, I am thankful she kept me away from it for so long. I was at least a few years behind my friends in trying soda pop–sometimes it's best not being the first.
After discovering the benefits of fermented vegetables a few years ago, the memories of seeing my mom ferment vegetables returned to me. Sadly, I was too young to be interested in learning to do it with her then. I had no idea if she did the same as what I read about. When I went back to Thailand the next time, I asked my mom for advice on everything I could remember about her foods from when I was little. While talking to her, I could see a smile on her face without the words. I knew she would say "oh now you know the reasons I did all those things back then." "Yes, Mother. Now as a mom, I'm doing what you did," I would say back to her, but I simply smiled. Oh, Mama, I'm so glad I was raised the way I'm raising my own child!
Listening to what my mom told me, I was amazed to learn that she did the exact same healthy "new" thing I had been reading about called "lacto-fermentation." If I knew it was so good and healthy back then, I would have spent more time in the kitchen learning from her.
This is what I've learned since then: lacto-fermentation is a method of fermenting vegetables, and the word lacto refers to a specific bacteria called Lactobacillus. Most plants and fruits have different kinds of these bacteria on the surface. During the process of fermentation, the bacteria convert sugar into lactic acid to prevent the growth of harmful bacteria and to act as a preservative. The bacteria also creates B vitamins, enzymes, and various kinds of probiotics that are good for digestion.
I will be sure to pass on this simple knowledge to my own daughter, and encourage others too. Now, let's make them together. You can lacto-ferment any kind of vegetable, but I'm going to share how to make my favorite type here:
Things you need:
A quart-size (1L) (a mason jar works really well), or any kind of glass jar with a lid

Cauliflower

Carrots

Red bell peppers

2 Tablespoons  (15 ml) of himalayan salt

Filtered water
How:
Cut the vegetables into bite-size pieces and place them in the jar

Put the salt in

Pour water over the salt to cover the vegetables, and leave about 1 inch (2.5cm) of space from the top

Place the jar on the countertop or somewhere quiet–keep it out of direct sun
Note: I put my jars on the counter as they look so pretty, and I like to see the reaction of the bubbles while the bacteria is doing its job. Open the lid to burp it every day. By day 3, check and taste to see if its getting ready. Most of the time it takes 3-5 days to be ready during the summer, but it takes longer during the winter. It depends on the temperature in your kitchen too.
Then transfer the jar to the fridge for more slow fermentation. I usually leave them in the fridge for at least a week or so to let the vegetables be thoroughly fermented, before eating them. Enjoy a small serving of them often!
Do you like fermented vegetables? Have you made them before? Please share your experience with me, I'd love to hear about it!