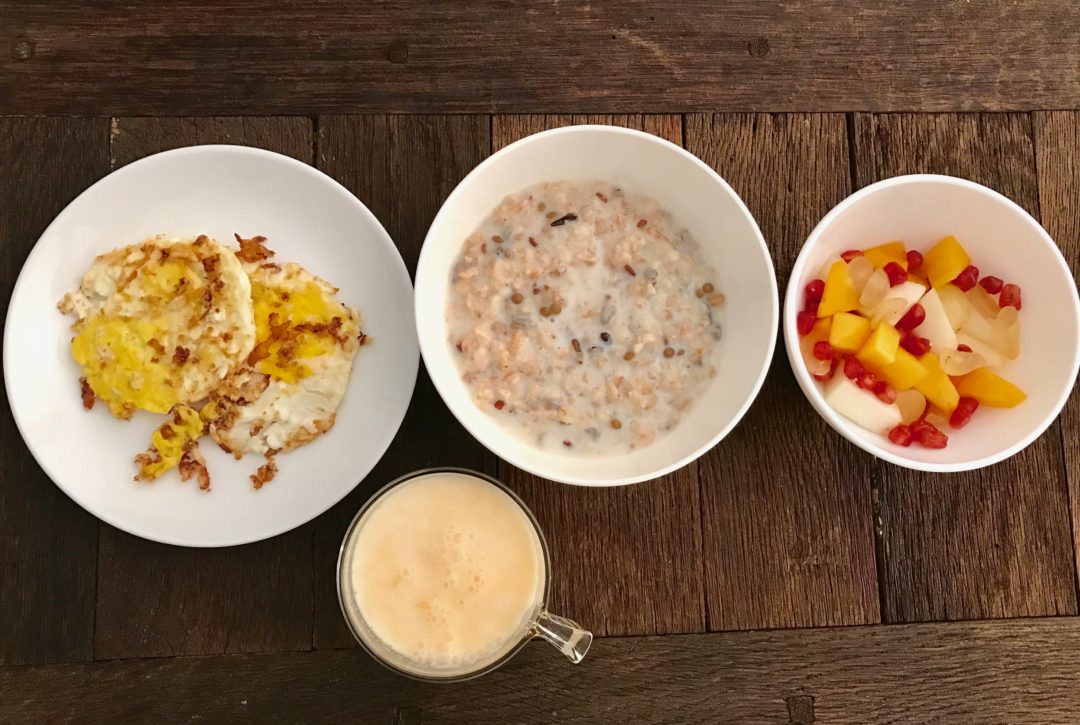 Being vegetarian and raising my daughter, I have to be very careful and make sure I'm not doing anything nutrition-wise I'll regret years from now. Also, thanks to all the questions and concerns from both sides of my family, I have been very cautious. I'm already inclined to be very cautious, so this has taken it to an extreme regarding nutrition. I'm glad for that though because nutritional knowledge and cooking techniques have also become my passion.
Breakfast is our biggest meal of the day, and I make sure that we all have good, balanced food, to start our day with. We eat a full breakfast every day. It's sad knowing there are so many people skipping breakfast because they don't have, or make, the time to eat it. Even though there is no scientific proof that breakfast is the most important meal of the day, I know from experience that it's very important.
I'm going to share how I prepare breakfast with you, which is rather gourmet, but simple at the same time. Each morning, we all have fruits, proteins, carbohydrates, and a probiotic drink. How on earth can we eat all that for breakfast you might think, right?
Yes, it takes some time to prepare, but it's a great routine, and we usually spend about 20 minutes each morning eating our breakfast (not including preparation).
I start with a bowl of fruit: this varies with the season and where we are living. In the U.S. during summer we eat all kind of berries, and we preserve them in few different ways to eat during the winter too. When we were in Taiwan, and Thailand, we ate seasonal, tropical fruits like dragon fruit, mangosteen, passion fruit, etc. . . yumm. I wish we could have those fruits everywhere, but luckily there is always some kind of local fruit everywhere. It's now fall in Spain, and I can find pomegranates and persimmons readily, so we eat them with other kinds of fruits a lot, including garnacha grapes, among other varieties.
Then a bowl of whole grains mixed with soaked oat & barley meals
This is followed by 2 eggs fried in coconut oil
And, finished up with a glass of homemade kefir mixed with orange juice.
Believe me, you'll feel so good after your meal, and you will be fueled for a very good day.
Everything we do takes time, so why not take some of it to care for ourselves by eating a good breakfast? Engines run better with good fuel, and so do our bodies, don't you think?
Do you eat breakfast, and what do you eat? Have you tried this yet? Please share with me–I really want to hear about it!