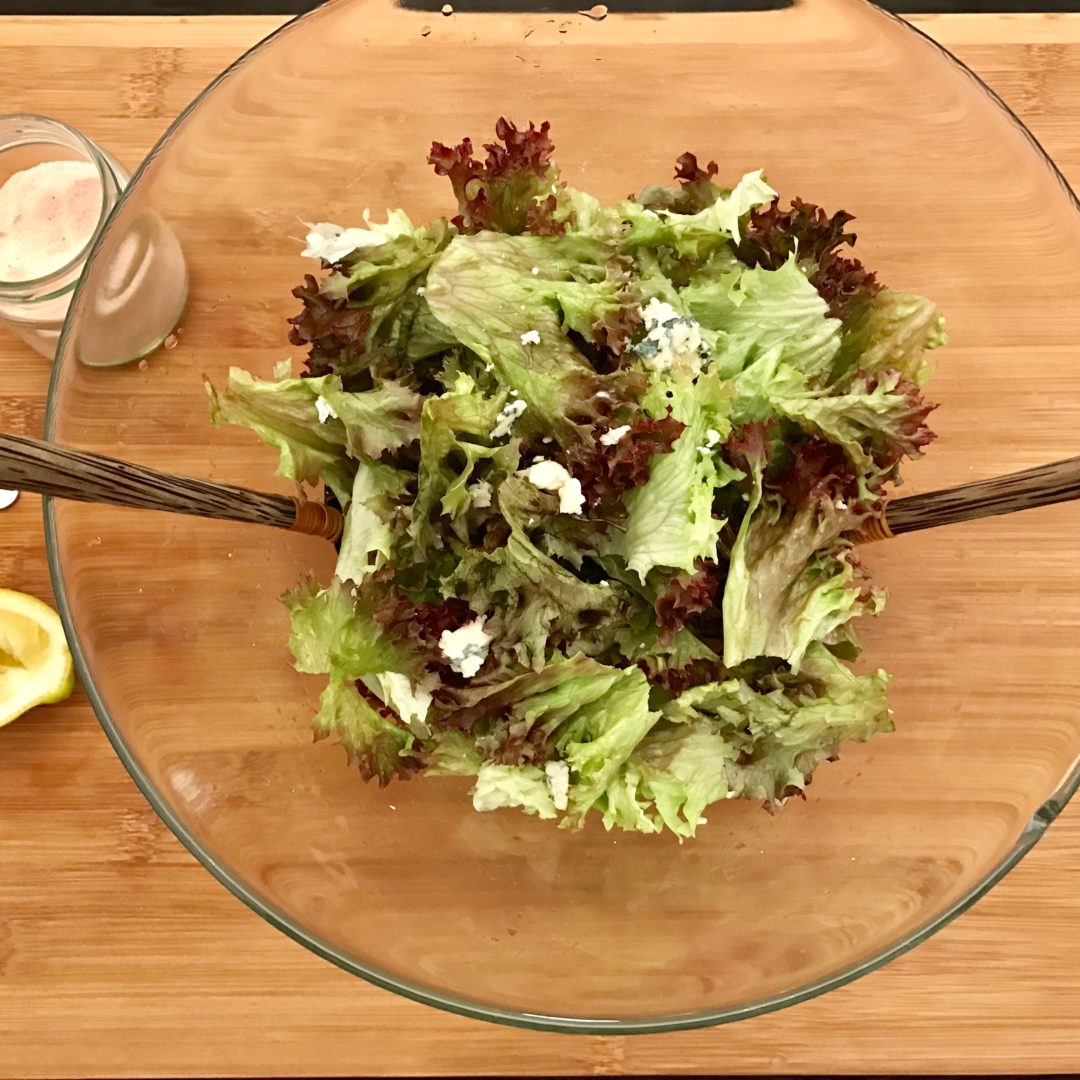 I discover many of my dishes through a lack of ingredients and equipment due to circumstances, and blue cheese salad is one of them–adapted from traditional Greek salad.
My family loves Greek salad, and we include it in our dinner a few times every week.
My daughter always asks for seconds, but I only give it to her when she finishes other things on her plate first. Yes, I'm very strict when it comes to eating a well-balanced diet.
When we were living in Taiwan in 2013, I couldn't find all the ingredients to make the same greek salad like I used to, so I had to come up with a new kind of simple salad, and we have all loved eating salad that way ever since!
Besides not being able to get all the ingredients, I didn't have a salad spinner either. Knowing we would be there for one year, and that we didn't want to pack so many things back afterward, a salad spinner wasn't on the essentials list.
I wash all vegetables before I cook or eat them fresh, and I don't usually eat salad from pre-washed bags. Sometimes I do if I have no other options, but I re-wash first and drying it can also be chaotic without a salad spinner.
The new way I found worked great with whole heads of lettuce. I tore all the leaves apart and rinsed them thoroughly, shaking the water off them one by one. Then I tore them into bite-size pieces and seasoned them. During that time, I just squeezed some lemon juice on my salad, sprinkled on some salt, and drizzled olive oil over it before mixing–that's it. It was so simple, but imagine the smell of fresh-squeezed lemon juice mixed with some good salt, all carried by the olive oil.
When we came back, even though I had my salad spinner, I didn't use it because I liked washing and rinsing salad without the spinner more. It's easier and faster, and eliminates another thing to wash every time we eat salad–which is often. Also, since we were back to where I could get feta cheese easily, I started to add it back into my new version of the salad. We ate it that way for a long time calling it our "Greek salad."
One time, I ran out of feta cheese, but happened to have blue cheese handy. Hmm. . . running to the store or just using what I had. That's right, I decided to replace the feta with the blue cheese. Turned out we liked my new creation even more! It's so simple, easy to make, yet very gourmet and nutritious. My daughter can even prepare this all by herself. The tangy flavor of lemon juice combined with the salty taste of blue cheese makes my mouth water.
Let's add this salad to your dinner tonight.
Things you need:
1 head of lettuce (makes 3-4 servings)

½ lemon or less.

Extra-virgin olive oil

Blue cheese

Himalayan salt
How to prepare it:
Take the leaves apart and rinse them thoroughly

Shake the leaves to get rid of excess water

Hand-tear the leaves gently, discarding the stem. This is my tip to make the salad look more appealing!

Sprinkle some salt in

Sprinkle some cheese in

Squeeze in lemon juice

Put olive oil in and mix everything together

Taste and adjust the flavor the way you like
I usually eat this salad with one kind of cooked vegetable dish, like this one
Have you tried making your salad this way? Please share with me–I really want to hear about it!