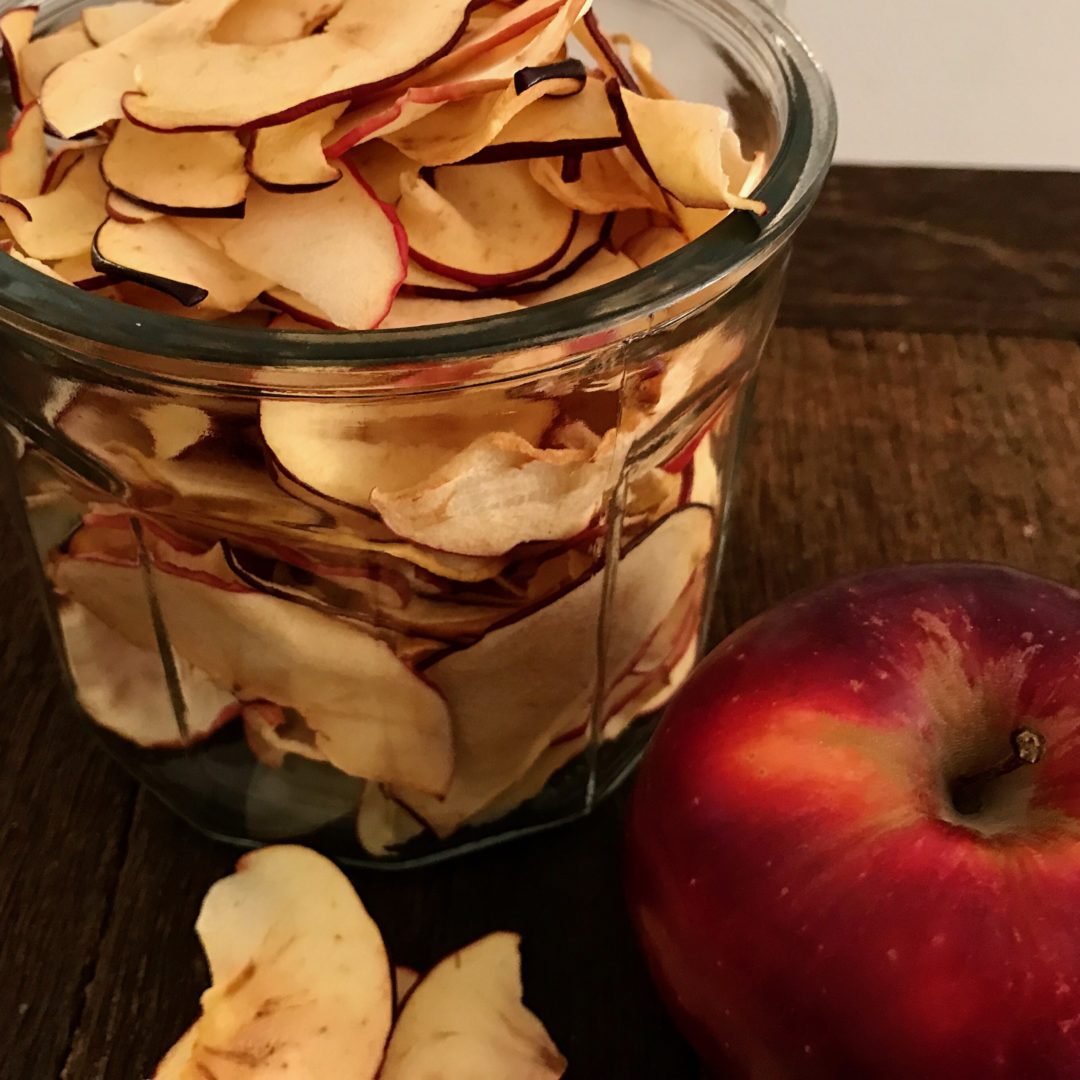 Living in a different country can be a challenge as far as having everything we are used to–especially kitchen equipment. We could just buy what we want, but it's better to go without a few things and find ways to improvise.
I regret letting a year go by without trying to accept that and live without an oven, when we spent our year in Taiwan in 2013-14. Most Asian kitchen don't have ovens, so I went the whole year avoiding cooking anything involving an oven.
This year in Spain, it's disappointing that our house doesn't have an oven again. However, I tried harder and figured out how to keep having our favorite healthy snacks like kale chips in the kitchen. It was a big success, and I gained confidence experimenting with new techniques.
I'm obsessed with making dried apples (apple chips) and I have turned so many adults and kids onto them too. I have given away jars and jars to friends as birthday and Christmas gifts, or for my daughter's school parties, etc. It's so rewarding to see kids pick the dried apples over other sweet treats!
I wanted to be able to have the same apple chips, and started to drying them without a dehydrator by using the same frying pan I was making kale chips in.
It was exciting to see my first attempt work, and they turned out just like with the dehydrator back home. However, it takes less time, is quieter, and is easier for me than using a dehydrator. So, now we have our dried apples, and sometimes pears and other kind of fruits–and of course kale chips–for snacks again.
Things you need:
Some apples

A frying pan of any type should work (I use an enamel frying pan)

A bit of coconut oil, or olive oil
How to: See the video here
Use a paper towel to grease the pan with the oil so the apple slices don't get stuck to it.

Heat the frying pan on a very low heat (I turn mine to 2).

Slice the apples into very thin pieces

Lay the pieces in the pan, only in one layer.

Within 10-15 minutes, you can see that the pieces start to dry, then turn them over. You can use your fingers as they are not hot.

About 10 minutes later, take the dry pieces out and cool them on a plate or in a bowl. They get crispier as they cool. Try experimenting with your own stove and the heat.

Done! -repeat 'til you have all you want.

Store them in a glass jar, and enjoy them often!
Have you tried drying your fruits without an oven or a dehydrator before? Please share with me–I'd love to hear from you!