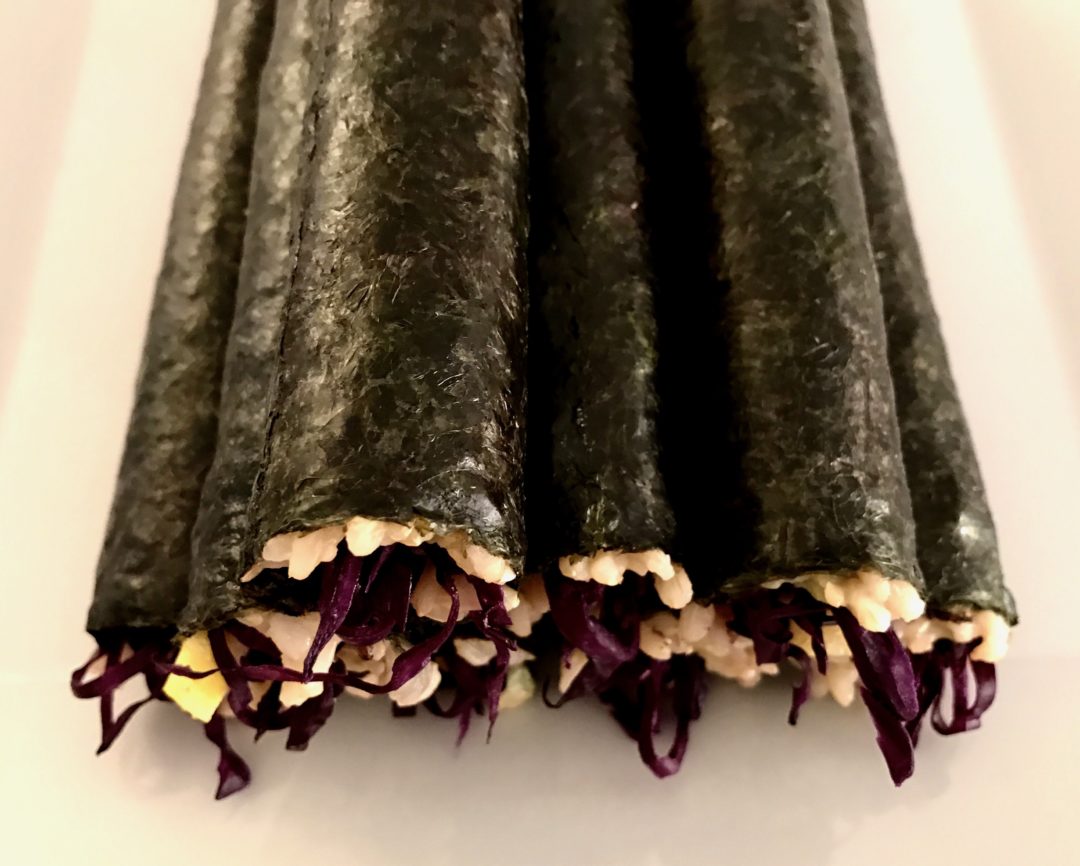 Roll your own Sushi, or eat it as Nori Wraps
When I lived in Thailand, making my own sushi seemed impossible. I never thought I could make it at home–especially the vegetarian type. There are so many Japanese restaurants to choose from, and most of them serve sushi in amazingly tasty, Thai styles, which are convenient and fun to eat.
Talking about tasty Thai style, I'm still craving Tom-Yum Pizza! (based on the famous Thai soup). If you like Tom-Yum soup, I'm sure you'd love Tom-yum pizza, and it's a standard fixing in Thailand. Thai people create all kinds of famous foods in Thai versions to please our taste buds. Sushi is the same, like pizza, there is plenty of great and often unique sushi available there.
Now, sushi is what I make at home almost every week, in fact, sometimes twice. It's the favorite school lunch for my active daughter, as she can open her lunch box and munch it while busily talking with friends–an empty lunch box is guaranteed!
When we make it to eat at home, we don't roll it, but eat it as wraps the way my Japanese friends showed me in Tokyo a long time ago. We call these Nori Wraps. I love eating sushi this way so much and have been making it for almost 20 years now. However, I do substitute a few things to suit my own style, and it's pretty easy to make actually.
Let's step into my kitchen for a little bit, so I can explain some main ingredients before we get the sushi-making started:
Rice: It plays a big role in making sushi, and if the rice tastes good, it will make the sushi taste good too. You can use any kind of rice, but the most common type is Japanese sushi rice, which is easy to find in most grocery stores. I like to sprout my own brown rice and mix it with fermented whole grains. It's filling and has a yummy fermentation taste you can't get from regular rice–but I enjoy using white rice too. I don't have to soak white rice as it has been polished, as the scary phytic acid is already removed!   
Seaweed: It is very important to get good quality seaweed from a source you can rely on. Seaweed has a reputation for being healthy, so there are many companies out there selling it but not all sources are equally clean. I usually get seaweed from Japan as I trust their dignity and honesty (I'm loyal to my Japanese friends). I say choose from a source you trust!
Vinegar: This is another important ingredient in making sushi taste extraordinary, and the most convenient way is to use seasoned rice vinegar. It gives the rice great flavor without doing anything special, and it's also sold in most grocery stores. I usually season my own though as I know exactly what kind of ingredients go in that way, and I have extra control over the flavor. It's very easy, and I'll show you how below.
Filling: This is the fun and creative part of the process. When you are comfortable making your own sushi, you can explore anything you want for the filling. Vegetables such as leafy green kale, collards, and cabbages, especially the purple kind, are my favorites. Carrots and cucumber work well too–just about anything you want to eat really. As far as protein goes, eggs and tofu are the easiest choices. Sometimes, I add cooked beans to my creation as well. Mayonnaise is another essential part to making sushi taste great, the original way I learned. However, I mix it with avocado, and the taste is even better!
Let me give you more specific recipe details:
Things you need for making 4-5 sushi rolls:
About 1 and a half cups (375 ml) of rice

Seaweed or nori sheets for sushi

At least 5 tablespoons (75 ml) of seasoned rice vinegar

Leafy green vegetables. Sometimes, when I can't get good leafy greens, I use purple cabbage, or broccoli.

Fried-garlic (optional for frying the vegetables)

2 eggs

A few pieces of tofu

2-3 tablespoons (30-45 ml) of coconut oil, or olive oil

½ avocado

2- 3 teaspoons (10-15 ml) of mayonnaise–I use a vegan type

Soy sauce & wasabi for dipping (I don't use these when packing sushi for lunches)

Salt
Things you need to make your own seasoned vinegar:
2 tablespoons (30 ml) of apple cider vinegar

1 tablespoon (15 ml) of sugar, I use whole-unrefined sugar

1 teaspoon (5 ml) of salt, I use himalayan salt

2 tablespoons (30 ml) of filtered warm water (the same amount as the vinegar)                

 Mix everything together
Note: Vegan friends, cut the eggs out and this sushi is yours!
How: See the video 
Cook the rice, or use cooked leftover rice and re-heat it (that's what I often do).

Beat the eggs with a pinch of salt, cut the tofu, and chop the vegetables.

On medium heat, fry the eggs in coconut oil.

Add more oil in the same pan, fry the tofu, and sprinkle a pinch of salt in.

Add more oil after the tofu is done. Fry the vegetables with fried garlic, and sprinkle another pinch of salt in.

In the same frying pan (no need to wash it), mix the seasoned vinegar with the rice. I suggest starting with 3 tablespoons (45 ml) of vinegar and adding more to it as needed. It usually takes about 5 tablespoons (75 ml) with 1.5 cups (340 ml) of rice, but it depends on how you like it, so experiment some. 

Mix the mayonnaise & avocado into a paste.

Prepare the seaweed, and cut it into 4 squares per sheet for Nori wraps.

When the rice is cooked and still hot, add the seasoned vinegar and mix it all thoroughly

.
This is how we eat sushi wraps at home:
Fold the seaweed sheets to cut the sheets into 4 equal squares.
Put everything you want in a piece of seaweed, and roll your own much like a small taco.
This is how I make sushi rolls without a bamboo sushi mat:
Use the whole sheet of seaweed.

Put rice on it and spread it out along the near edge.  

Add mayonnaise & avocado paste on the rice.

Put the vegetables, egg, and tofu on top.

Roll it, and use the mayonnaise & avocado paste to glue the edge of the seaweed so the roll stays closed.

Cut it into pieces–its ready to eat!
Have you made sushi before?  Please share with me, I'd like to hear about it!