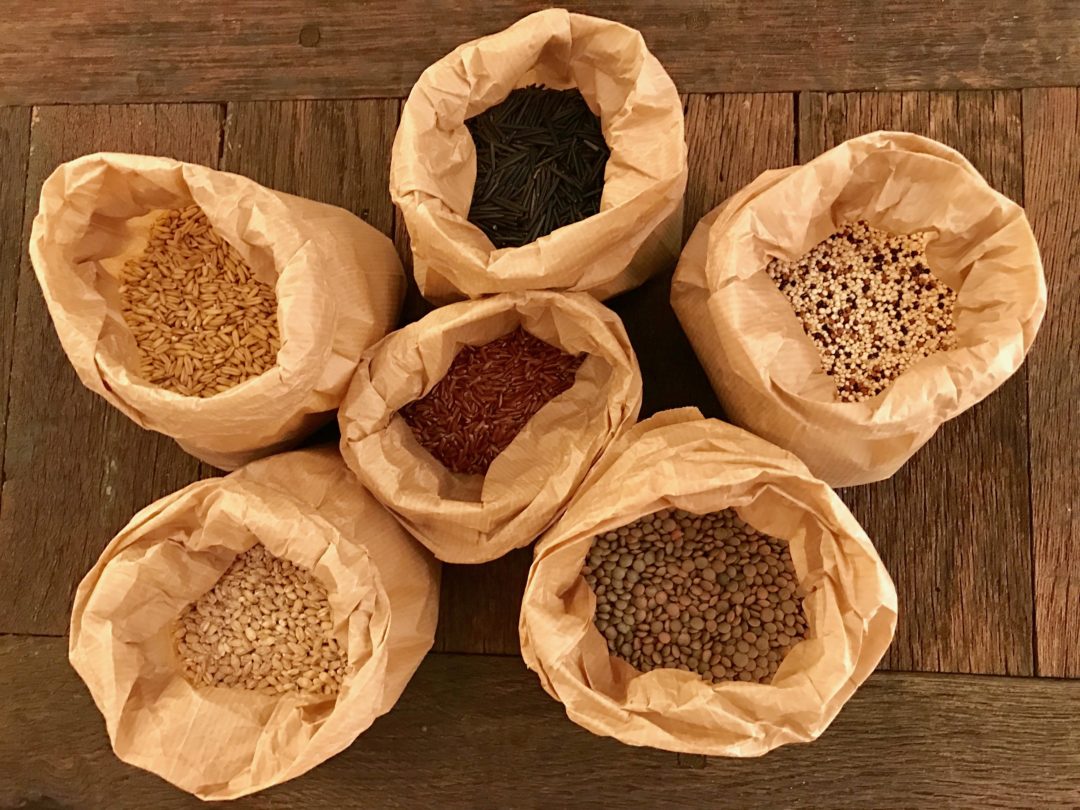 Organic whole grain cereal and whole oatmeal were the ideal options for healthy breakfasts in my family for a long time. It was easy and convenient to open a box of cereal, or to cook oatmeal straight from the storage jar in the morning. However, I completely changed my way of eating whole grains since 2013, when I learned how phytic acid might be associated teeth problems.
Soaking and fermenting whole grains can reduce phytic acid, and this method was how people in the past prepared their grains before consuming them. Unfortunately, nowadays, people aren't spending time doing it much. I was fascinated with what I learned, and it steered me to prepare grains in these ways.
Are you ready to try eating fermented whole grains properly prepared in a traditional way?
I'm going to show you first how to soak or ferment and cook raw whole grains, and the second one is how to soak rolled oats & barley flakes. I used both of them mostly for breakfast.
What you need for soaking or fermenting and cooking raw whole grains
whole (raw) grains of your choice. I usually get organic oat groats, barley, wild rice, red rice, quinoa, and lentils.

A glass jar, or the pot that you are going to cook them in if you can spare it for 2 days
Filtered warm water
2 Tbs (30ml) or 1 oz of liquid whey
Patience and a good attitude.
How:
1. Combine all the grains of your choice together, and store them in a jar
2. Put 2 cups of the grains in a prepared glass jar, then wash and rinse them a few times.You can adjust the amount according to your needs later when you get used to doing it.
3. Pour warm water over to cover them by twice the height of the grains, and make sure to leave some room for them to expand.
4. Put liquid whey in and mix well. Leave the jar on the counter for 2 days, but dump the water out and replace it every day. You don't need to put any more whey in when replacing the water as the grains are already activated.
On day three.
Dump the water and put the grains in a pot and cover them with filtered water about one inch (2.5 cm) above the top of the grain. I use the method I learned in Thailand by measuring the water to the first knuckle of my finger. It might be funny, but it's so much easier and faster this way as I don't have to use a measuring cup–it always works!

Cook on medium to high heat, and stir occasionally to make sure it doesn't get burnt on the

bottom.

When it boils, turn the heat down to low, and keep stirring once in awhile. As the water dries to the top surface of the grains, turn the heat down and sim for 20 more minutes, then turn the heat off, and let them cool.
Once they cool completely, put them in containers and store them in the fridge. If you make a lot, store the rest in the freezer.
Now that you have your fermented grains pre-cooked, you can create your own way of eating them, or you can eat them the way I do.
And next, what you need for soaking or fermenting rolled oats & barley flakes
1/2 cup (120

ml) of rolled oatmeal and 1/2 cup or (120

ml) of whole barley meals. (I started out with one cup (240

ml) of each meal and adjusted the amount according to my needs later when I got used to doing it.)

Warm filtered water.

1 tablespoon of liquid whey.
How:
Put the meal (oatmeal and barley) in a jar, and cover them with lukewarm water. Put the whey in, and mix well.

Leave the jar on the counter. Change the water after the first day, and let them soak for another day. No whey is needed after the first day.

Put the jar in the refrigerator if you don't use them all at once. They are fermented now and should last about a week in the fridge.
Now that you have mixed- fermented rolled oat & barley, you can cook them the way you cook and eat them like you do with regular rolled oats, or eat them like this.
Note:As you can see, fermenting and cooking grains takes some time, and that's probably why not very many people do it anymore, but it is not too difficult really when you get used to it. To make it easier for me, I usually cook enough grains to last about two weeks, and put the amount I can eat within 3-4 days in a container in the fridge, and freeze the rest.
Have you tried soaking or fermenting your grains? Please share your experience with me, I'd like to hear about it!