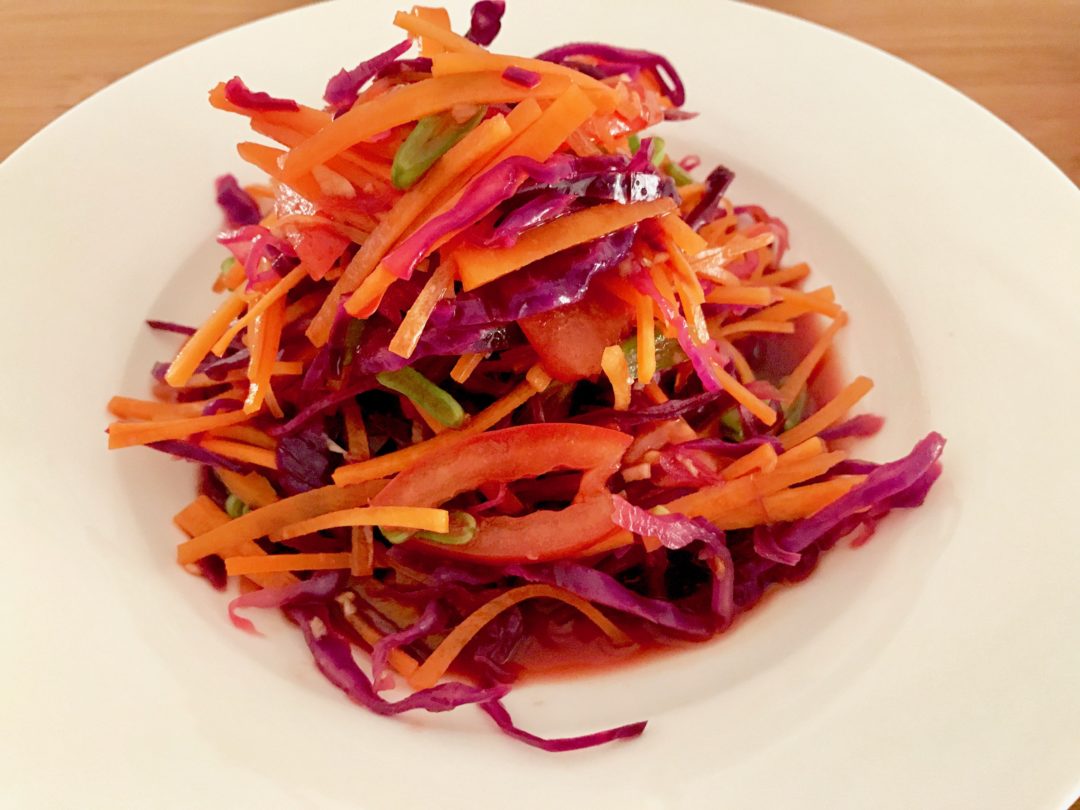 Som Tam is a well known Thai salad made with raw papayas pounded in a terra cotta mortar–a unique way to make salad. It's very healthy with a combination of sweet, tangy, savory and spicy flavors. In Thailand, Som Tam is everywhere from street venders to high-end restaurants and food courts. If you like Thai foods, I'm sure you will like or have already tried Som Tam before!
My family and I love eating Som Tam, and we can eat it almost every day, which we often do when we go to Thailand. However, it can be hard to make Som Tam the same way they do in Thailand if you can't get raw papayas, or don't have a terra cotta mortar. Where I live in the US, it's easy to get everything I need to make Som Tam and other asian dishes. When I travel though, especially now in Spain, I can't get raw papayas, and don't have a mortar either.
To make Som Tum like we always do, I substitute carrots & cabbages for raw papayas. Sometimes, I add cucumbers too. These vegetables are more common and easy to find everywhere. For a mortar, I just use a regular salad bowl instead. The result is not exactly the same, but it's healthy, and tasty in a different way.
Before we talk more about making Som Tam with cabbage, I would like to mention something about it first. Even though I grew up hearing that eating raw cabbage is not good for you, I never found out why. Instead, I avoided consuming it raw altogether.
However, a few years ago, I decided to look into the reasons. I read a few articles and found out that cruciferous vegetables such as cabbage should be cooked before being eaten as they contain chemicals that block the production of thyroid hormone in your body. Here is the link to the article I am talking about. You can use your own intuition whether to consume it raw. I still think eating it raw in moderation is ok, and I like it that way sometimes.
Usually I cook the cabbage a little bit as I notice my stomach reacts better with cooked cabbage. So, when I make Som Tam, I blanch the cabbage slightly, and mix it with raw carrots. The two vegetables go together really well, and the cabbage even absorbs the sauce better when cooked.
As far as other ingredients go, I use whole-unrefined sugar to substitute for palm sugar. I also substitute soy sauce for the fish sauce, and add sesame oil to it as well. There is no oil in the original Thai Som tam recipe, although I like having some oil in my recipe — and sesame oil works best.
There are also long green beans in the original Thai recipe as they give an extra touch to SomTam. Again, they are not always available where I live, so I often substitute regular green beans that I can find locally, or just skip them.
Things you need for Som Tam:
2-3 carrots
1/4 of a medium purple cabbage
1-2 tomatoes
A few green beans
1-2 tomatoes
2 cloves of garlic
2 TBSPs (30 ml) of sugar, soy sauce, and lemon juice
1 TBSPs (15 ml)  of sesame oil (optional)
About 3-4 TBSPs (45-60 ml) of crushed Peanuts (optional)
A pinch of salt
Thai chilli or chilli flakes (optional)
Grate or chop the carrots.

Finely chop the cabbage.

In a small pot, boil water. Blanch the cabbage for a few minutes, then cool it in a bowl of cold water. Strain and let dry (you can steam it too if preferred.)
For the sauce:
Squeeze the limes.

Smash and finely chop the garlic, and put it in a small bowl, then add soy sauce, sugar, and lemon juice in. (You can add the chilli or chilli flakes in at this step.)

Slice the tomatoes and put them in.

Chop the green beans and put them in.

Add in sesame oil, and mix everything well.
Combine the Ingredients
In a salad bowl, with the cabbage and the carrots. Add the sauce in and mix well.

Let it sit for a few minutes so the vegetables can absorb the sauce before serving.

Enjoy the carrot & cabbage version of som-tam!
Have you made Som Tam before? Please share with me how you like this way of making it. I'd love to hear from you!