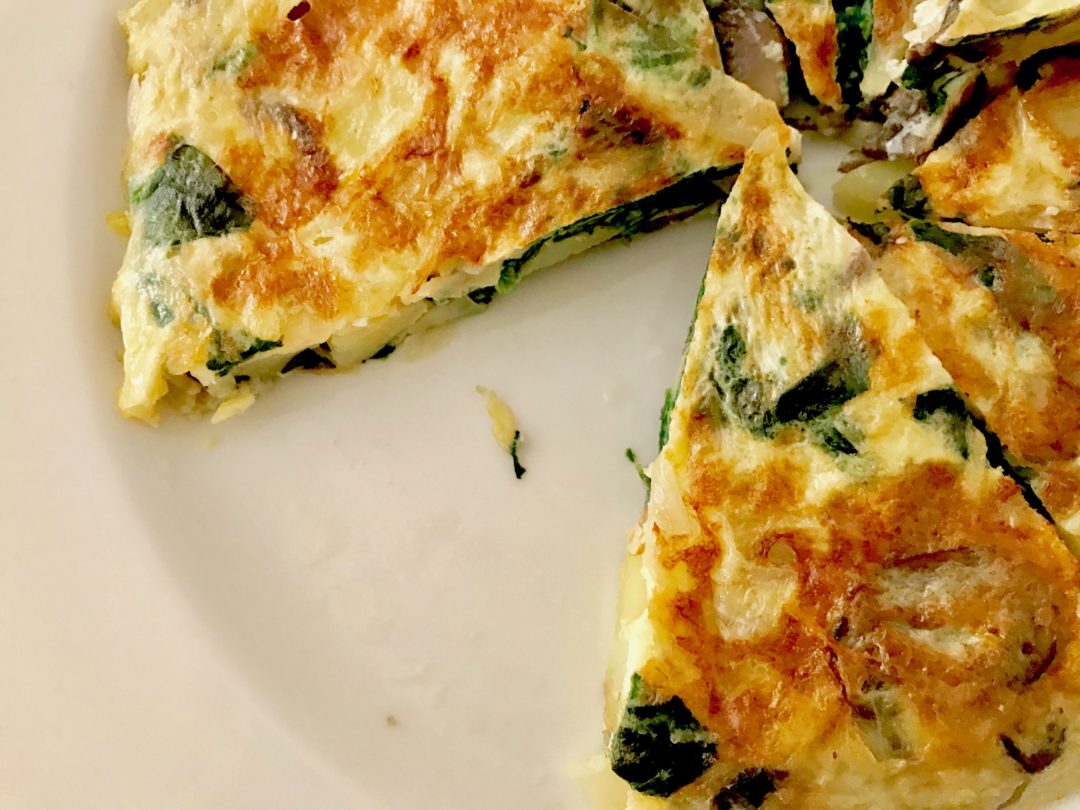 Spanish omelette (AKA Tortilla Patata) is one of the most famous and most common dishes in Spain. It was the first dish we ordered when we got here, and it's a dish we often order when we eat out. It's very filling, yet healthy. With both potatoes and eggs in it, we get protein and carbohydrates at the same time.
When I saw a Spanish omelette for the first time, I thought it must require an oven to make. It seems impossible to make anything look like that without baking, but soon I learned it doesn't. However, there are two main things most people use to make it perfectly round and golden: a non-stick frying pan, and a lot of oil. Nonetheless, after watching our friends and others make it a few times, I knew I could make it my own way.
I experimented making it with a stainless steel frying pan, but it didn't go well, and as a result, I burnt a few batches before getting it down. Finally, I have both the recipe and technique down to the point I'm comfortable to share it.
Like most dishes I cook, I adjust the original recipes to fit our way of living and eating better. For the Spanish omelette, I use a moderate amount of coconut oil, as well as adding some vegetables too. You can use any kind of vegetables you have on hand, but I often use spinach, broccoli and mushrooms. Even though most restaurants in Spain have plain tortilla patatas with only eggs and potatoes, some places offer various fixings like this too.
I use cooked potatoes instead of raw for making this, and it turns out better. To me, raw potatoes make it a little bit too starchy, and take longer to cook. I usually cook a lot of potatoes at a time, and have them ready to use in other dishes too. This is convenient, and fits my cooking routine well.
As far as other ingredients go, it's hard to believe I only use salt to make it taste so good. The vegetables really enhance the flavor, especially with a few kinds together.
Now we eat spanish omelette  for breakfast most weekends, and for dinner sometimes too. It's a lot of fun to make once you know how. Are you ready to try?
Things you need:
2 medium cooked potatoes

1 medium onion

4 eggs

A little bit of spinach and some mushrooms. (be careful not to put too much in as it will be harder to flip.) You can use other kinds of vegetables such as cauliflower, broccoli, shiitake mushrooms, tomatoes, and red bell peppers too. 

3 generous TBSPs (45 ml.) of coconut oil

1/2 TSP (2.5 ml.) of salt

Black pepper (optional)

A frying pan

A big plate
How to: see the video 
Chop the onion, potatoes, spinach and mushrooms.

Beat the eggs with the salt, and set it aside.

In the frying pan on medium heat, h

e

at the oil and fry the prepared vegetables, one kind at a time. Add a little more oil each time, and

set

 it aside.

Add all the fried vegetables to the eggs and mix well.

On medium to low, heat 1 generous TBSP (15 ml.) of coconut oil.

When the oil is hot, gently pour the egg mixture in. Turn the heat down one step, and cook it for about 5 minutes. (I test the oil to see if it's ready by dropping a little bit of the egg mixture onto it. The egg will float right up if the oil is perfectly hot)

When it starts to dry lift a side to see if its ready underneath.

When it looks ready, use a plate to cover the pan and flip it over onto the plate.

Slide the omelette back into the frying pan to cook the other side for about 5

more

minutes.
Use a fork to poke it, and if the fork comes out clean, it's ready. This would be over-done for most people in Spain as they like to keep them slightly runny inside. 

Use the same plate to cover the pan and flip it upside-down again. This way you can get the omelette on the plate without breaking it.

Let it cool down a little bit before serving.

Enjoy!
Have you cooked this before? Please share with me how yours turned out–I'd love to hear about it!