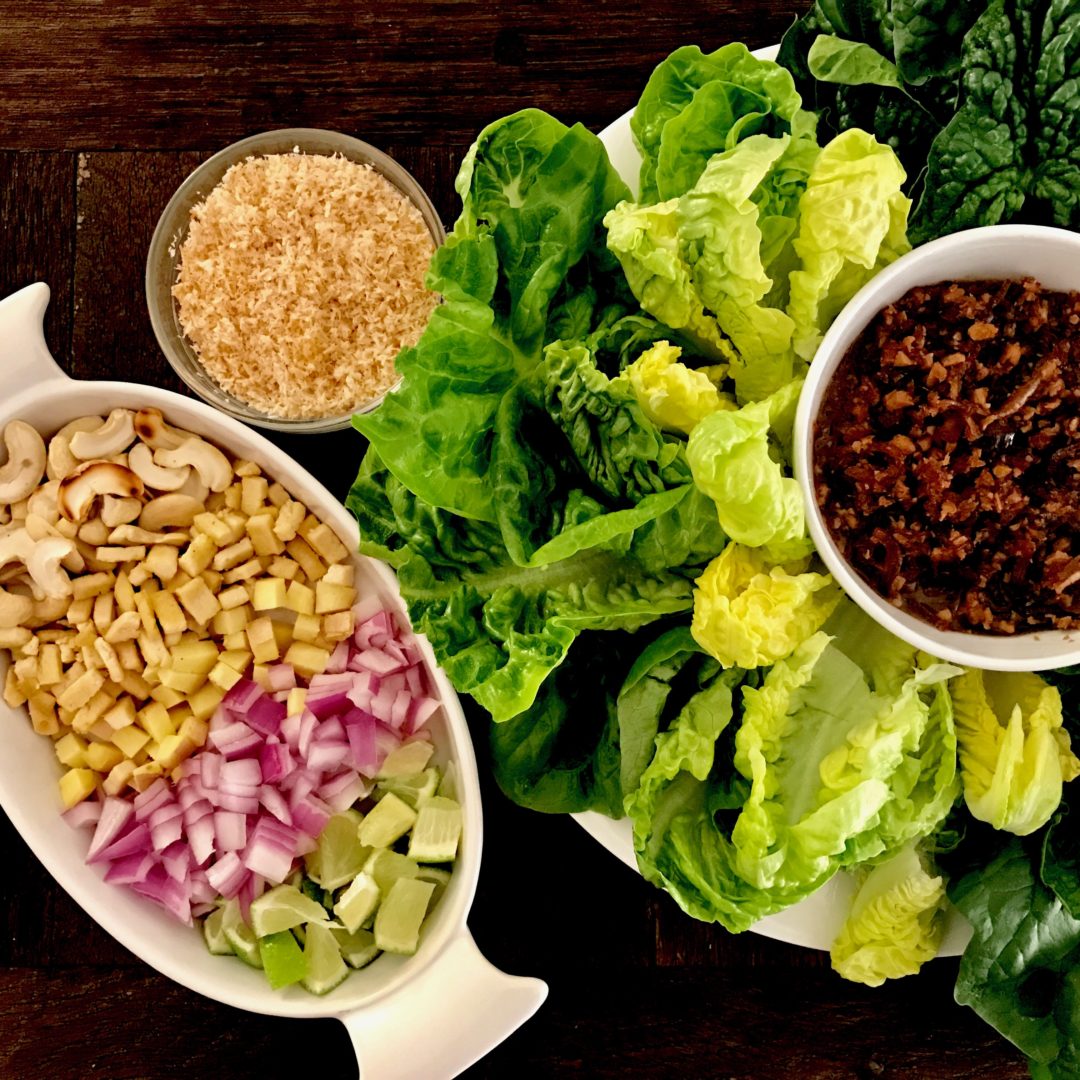 Vegan Miang Kham
The Thai appetizer, Miang Kham, is one of the healthiest snacks. It's a perfect mix of savory, sweet, and tangy, along with healthy raw vegetables. It's actually an appetizer, but we often eat it for dinner!  
However, the original Minag Kham recipe from Thailand has fish sauce, shrimp paste, and dried shrimp, all of which we don't eat. It also requires a lot of palm sugar to make the sauce thick, but I find it too sweet, and substitute a lesser amount of regular, unrefined cane sugar, that is always easy to find. To thicken the sauce, I use shallots or red onions with toasted coconut flakes, and minced crispy tofu instead. I substitute soy sauce for the fish sauce, and replace the shrimp paste with nutritional yeast. It turns out just the way I like, and I enjoy the flavor very much. It actually tastes as great as the authentic dish, but it feels even healthier and is easier to make!
Here are the things you need.
Condiments:
A bunch of spinach or lettuce, which is a good substitute for betel leaves (cha-ploo)

1-2 inches of ginger root

1/2 a lime or more

½  a medium-size red onion (shallots are preferable)

Thai chillies or any kind of chili that's spicy (optional)

Toasted coconut 

Crispy tofu

Toasted nuts – any kind of nuts are fine, but the most common are peanuts or cashew nuts

A little bit of coconut or olive oil
Sauce:
4 TBSP (60 ml) of sugar  

4 TBSP (60 ml) of soy sauce

½ a medium-size chopped red onion or ideally a shallot

2-3 TBSP (30-45 ml) of finely minced tofu

2-3 TBSP (30-45 ml) of toasted coconut flakes

1 TBSP (15 ml) of water

1-2 TBSP (30-45 ml) of nutritional yeast

A pinch of salt
Prepare the sauce: 
Prepare the tofu by cutting it into small cubes. Fry it with the coconut oil 'til it turns crispy, and set it aside.

Toast the coconut flakes, and set them aside. (you can buy fine coconut flakes or grind the bigger flakes yourself.)

Finely cut the red onion, and set it aside.

Mince some of the fried-crispy tofu.

In a small sauce pan on low to medium heat, combine the sugar, soy sauce, and salt together and cook 'til all is melted.

Add chopped red onion, and cook it 'til it wilts.

Add the minced tofu, the coconut flakes. Cook it for a few minutes, then a

dd water and cook for a few more minutes.

Turn the heat off, and let the sauce cool for a little bit.  Add the nutritional yeast while it's still warm, and mix well. Put it aside to cool.
Prepare the condiments:
Wash the spinach, and discard the water. Prepare the leaves on a big plate and set it aside.

Also wash and cut the lime, ginger, and onion into small cubes.

Arrange everything in a platter.
To eat:
Use a leaf, fold it like a small cup.

Put a little bit of everything in it and eat.

Enjoy!
Note: You can make a lot of sauce at a time, and keep it in the fridge. It's much easier and faster to prepare the condiments and have the sauce ready!
Have you tried Miang Kham before? Please share your experience eating it with me, I'd love to hear it from you!