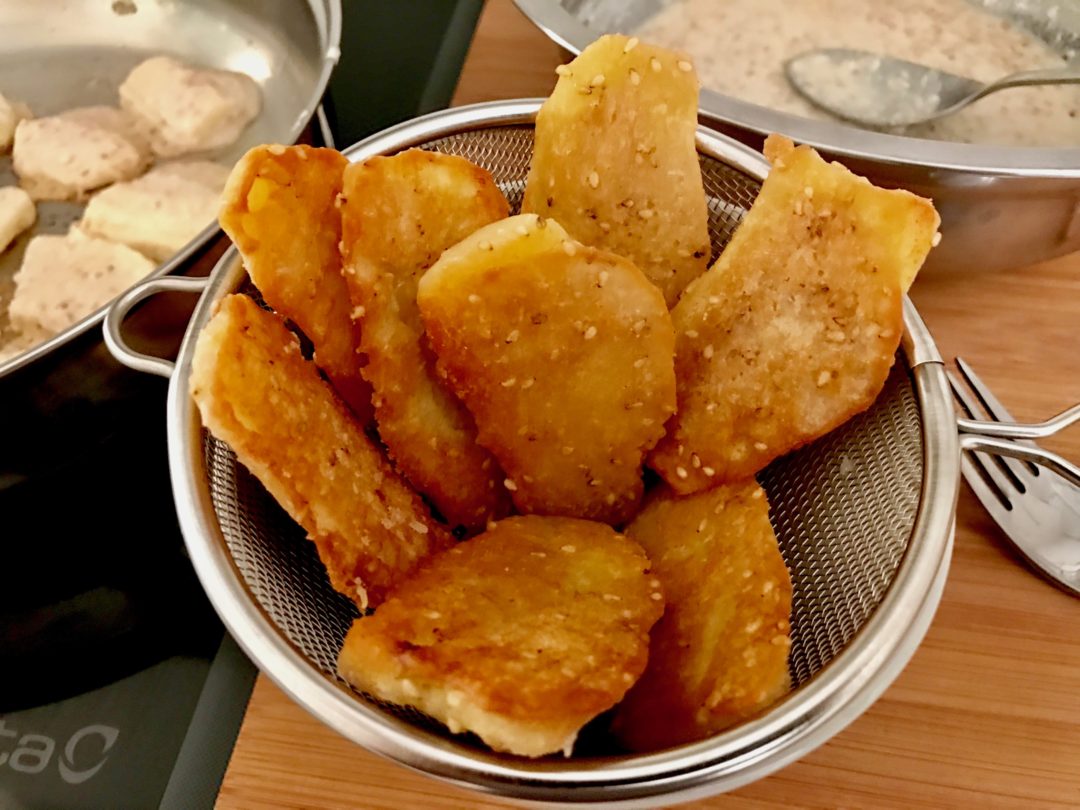 Fried bananas is a street dessert available everywhere in Thailand. If you want something to satisfy your sweet tooth right that minute, voila, there's a vendor frying bananas. They are crispy with a perfect amount of sweetness from the bananas themselves, and you can finish a whole lot before you know it!
When I was young, I often stopped by a vendor I was familiar with for Fried Bananas on the way home from school. Then one day, my mom talked to me about how the oil vendors use can harm your health. I wasn't happy to hear that my favorite snack might be bad for me, but I immediately took action. I started to look at the oil before I bought the Fried Bananas. If the oil looked dark, it meant the vendors had used it too long and it could be harmful, so I wouldn't buy it.
The info about bad oil really turned me away from buying and eating Fried Bananas. As they are not common in the US, I kind of forgot about it when I moved there. I really wanted to eat them more often without being afraid they are deep fried in bad oil, and the idea of making my own finally occurred to me. So, here I am again, reinterpreting a traditional food I like to eat.
In Thailand, we use a special kind of bananas called "Nam Wah." they are fat and short, but the taste is uniquely rich.  They are my all-time favorite bananas, although they are not easy to find. When I make them at home, I just use bananas from the market. However the bananas should be firm with the peels still a little bit on the green side. If the bananas are too ripe, they will turn out way too soft.
With just a little bit of effort, I now make them at home using just a bit of good oil along with ingredients I know the origin of. Also, instead of deep frying them, I make them more like pancakes. To my surprise, they look and taste great, and easily fix my craving. Most of all, making your own food is always better and healthier!
Would you like to try making this fun street food in your own kitchen? I'm happy to show you how.
Things you need for Fried Bananas:
3  firm bananas

¼ cup (85 g) of whole brown rice flour

1/2 TBSP (6 g) of sugar (I use whole unrefined sugarcane)

½ TSP (2.5 g) of salt

3 TBSPs (36 g) of coconut flakes

1 TBSP (12 g) of sesame seeds

¼ cup (85 g) plus 2 TBSPs (24 g) of filtered water

About 3 TBSPs (36 g) or less of coconut oil
Mix the flour, the sugar, and the salt together.

Add water and mix well.

Put the coconut flakes in, followed by the sesame seeds and mix well.

Add a little more water to make sure the batter is runny and not too thick.

Cut the bananas (one at a time) into 2 halves, and slice each into 4 pieces. Then put them in the batter.

In a frying pan on medium heat, heat about 1 TBSP (12 g) of coconut oil. When the oil is hot,  put the bananas in and fry them in one layer.

When the pieces look golden brown, turn them over to cook the other side.

Repeat 'til you finish the 3 bananas, or have the amount you want.

Enjoy!
Have you tried fried bananas before? Share with me.–I'd love to hear about it!