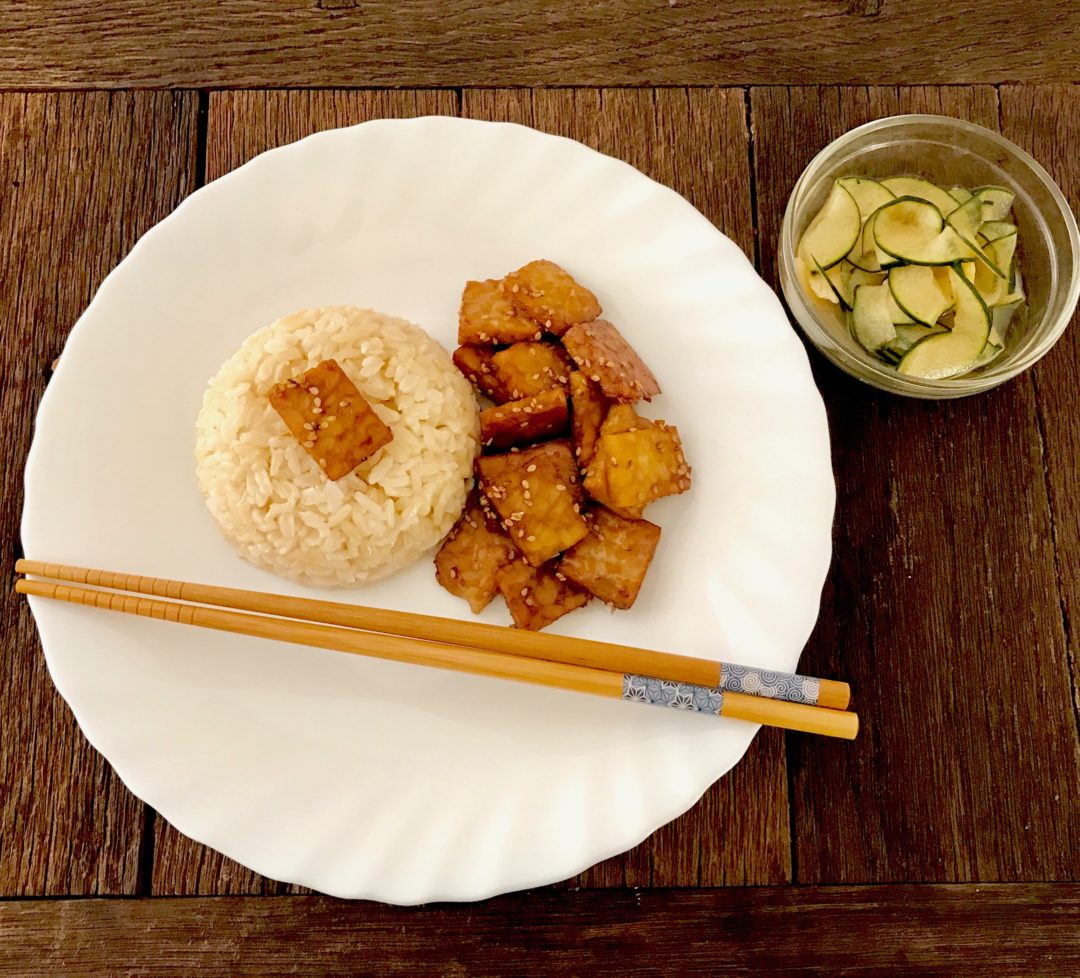 Teriyaki sauce is famous for making everything taste great, and tempeh is exceedingly healthy. Combining them, we have a healthy and delicious Teriyaki Tempeh!
I love Korean food, and in my opinion, it's one of the healthiest types of foods in the world. Unfortunately, most restaurants only offer teriyaki with meat. As a vegetarian, I have created my own way of eating meat-free teriyaki.
I have made it with both tofu and tempeh before, but I like how the tempeh turns out better. However, tempeh can be a little hard to make taste good if you don't cook it right, and I've learned it tastes better when fully cooked. If more people knew how good Teriyaki Tempeh could taste, I'm sure it would be much more popular.
In my teriyaki sauce recipe, I have cut some ingredients from the original recipes as not all of them are available in some areas. It's much simpler to make this way, but it still tastes delicious.
Would you like to give tempeh a chance? Let's make Teriyaki Tempeh together!
Things you need to make Teriyaki Tempeh
A block of tempeh 125 g ( 4.4 ounces)

About 3 TBSP (45 ml) teriyaki sauce, depending on how strong you like it

About 1 TBSP (15 ml) of coconut oil
Things you need to make the teriyaki sauce
Note:  This amount can be used a few times–just keep it in the fridge
7 TBSPs (105 ml) of soy sauce

10 TBSps (150 ml) of sugar

3.5 TBSPs (52.5 ml) of water

1 TBSP (15 ml) of sesame oil

1 TBSP (15 ml) of sesame seeds

About 1 inch (2.5 cm) of ginger
Finely chop the ginger and put it aside.

Cut the tempeh into small thin pieces and put it aside.

In a small pot on medium heat, combine the sugar and the soy sauce together and bring it all to a boil.

Turn down the heat and let the mixture thicken, then add the water and cook it for a few minutes.

Add the ginger, the sesame oil, and the sesame seeds–and mix well.

Let it cook for a few more minutes, then turn the heat off.

Let the sauce cool and put it aside or in a small glass jar.

In a frying pan on medium heat, put the tempeh pieces in and cover them with water.

Bring it to a boil, and let cook 'til the water starts to evaporate, then add the coconut oil followed by the teriyaki sauce.

Lower the heat and keep an eye on it as it can burn easily at this point.

Flip the pieces to cook the other side.

Take the cooked pieces out, and keep cooking the rest 'til done.

Enjoy it with a bowl of brown rice and some pickled cucumbers!
Have you tried making Teriyaki Tempeh before? Please share it with me, I'd like to hear about it!