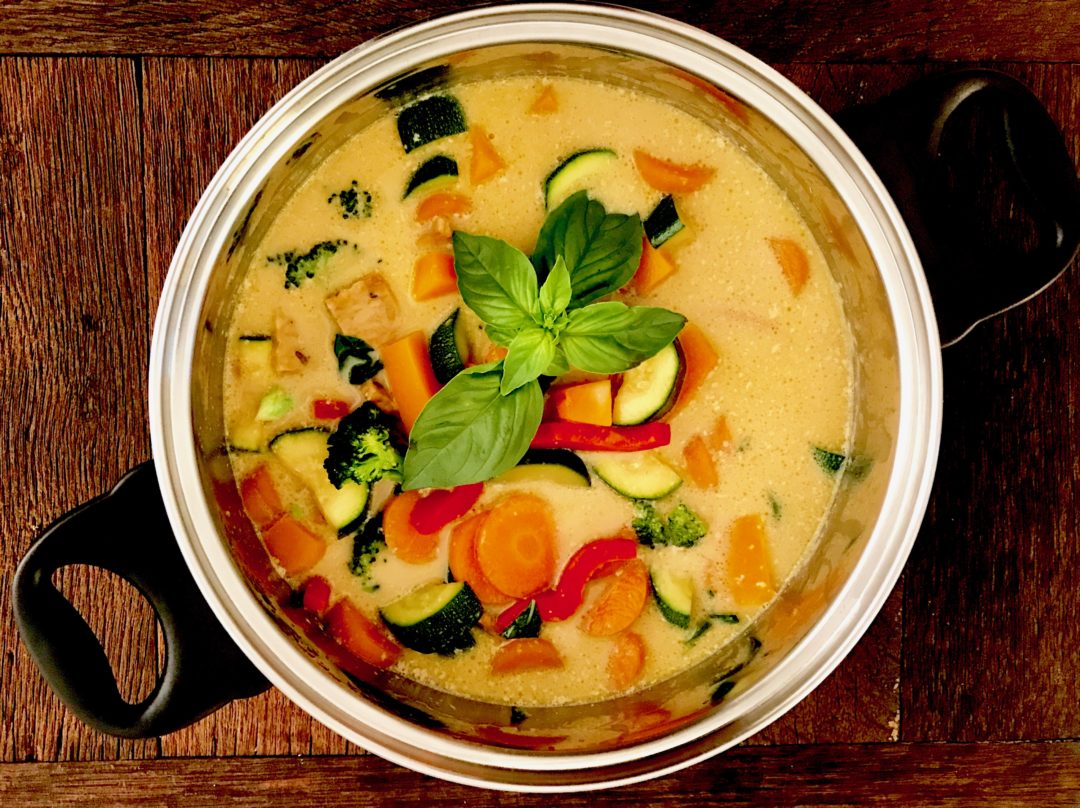 Thai green curry is one of the most desired curries. It's a great mix of balanced flavor with spicy, savory, sweet, and aromatic, all with the taste of different vegetables in a creamy coconut-based soup. When I want to eat something filling and flavorful, Thai green curry is high on my list.
Growing up in Thailand, green curry was one of many tasty Thai dishes I often chose. However, most green curry in Thailand is made with either beef or chicken. When I decided to stop eating meat altogether, I started to substitute either tofu, tempeh or sometimes just plain vegetables!
Talking about cooking curry dishes can be intimidating–for me too.  With curry paste on hand it is very simple though. Making curry paste from scratch is much more difficult, but fortunately there are so many companies selling ready-to-use curry pastes, and some with very healthy ingredients. However, most of them use shrimp paste. So, make sure to read the ingredients carefully. There is one company I usually buy my curry paste from without shrimp paste (not affiliated with GVK).
As long as you have the right curry paste on hand, you can get the Thai green curry done in no time. Are you ready to make it with me?
Here is what you need to make Thai Green Curry Tempeh:
A block of tempeh 4.5 oz (125 g)

A few kinds of vegetables: I often use a half of a zucchini, broccoli, a red bell pepper, a carrot, and a little bit of pumpkin

1 teaspoon (4.5 ml) of green curry paste (this is very mild, but if you want it to be very spicy–just double the amount)

about 1 TBSP (14.8 ml) of coconut oil

1 box of coconut cream 6.8 Oz (200 ml)

Filtered water: 6.8 Oz (200 ml) I use an equal amount of water to the coconut milk, so I use the coconut box to measure the water.

1 TBSP (14.8 ml) of soy sauce

1 teaspoon (4.5 ml) of sugar

A pinch of salt

A little bit of basil
Note: you can adjust the amount of the ingredients according to your liking. I don't have a fixed recipe.
Cut the tempeh to small thin pieces, and set aside.

Chop all the vegetables into bite sizes, and put them in a bowl.

In a pot on medium heat, heat the coconut oil and fry the green curry paste.

When the paste gets bubbly, put the coconut cream in. Let it cook 'til it bubbles and add the water, and 

let it come to a boil.

Put the soy sauce, sugar, and salt it, and bring it to a boil again.

When it boils, put the vegetables in starting with the ones that take longer to cook. Let it come to a boil and and add the rest of the vegetables.

Bring it to a boil again, and taste to see if you want to adjust the flavor to your liking.

Enjoy it with a bowl of rice or other whole grains. I usually have it with fermented quinoa!
Have you made Thai Green Curry Tempeh before? Please share it with me, I'd like to hear