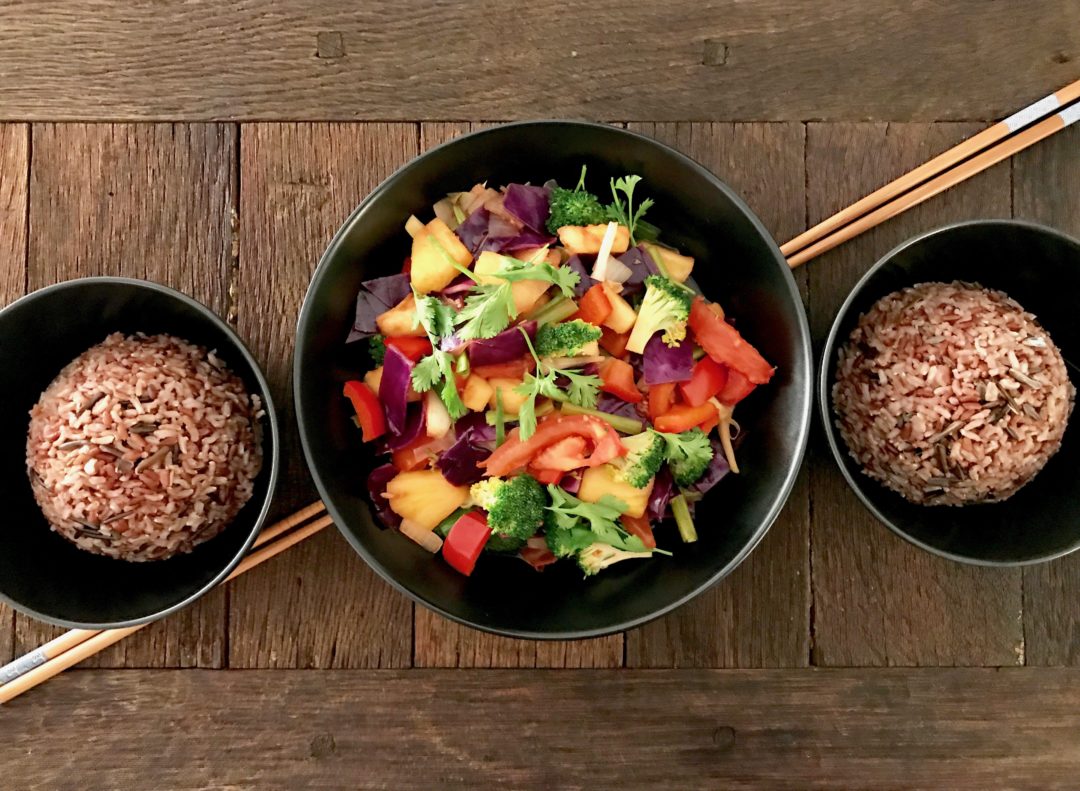 Vegan Sweet and Sour Vegetables are always the first choice when we order Chinese takeout as we are sure to get a generous amount of vegetables to enjoy with a bowl of warm rice.
Being Thai, I love Thai flavors better, although sometimes we don't have many choices. The best Sweet and Sour we love is the one I make at home (of course!) It has all fresh vegetables, mixed with a few simple ingredients, and we simply enjoy this healthy dish.
Things you need to make Vegan Sweet and Sour Vegetables:
A plate of vegetables of your choice. I use a few florets of broccoli, 2 tomatoes,  a little bit of red cabbage, red bell pepper, half an onion, 2 stems of green onion, a ¼ of a pineapple, and a few stems of cilantro.

2 cloves of garlic.

2 TBSP (30 ml) of soy sauce, and 2 TBSP (30 ml) of water.

1 TBSP (15 ml) of coconut oil.

About 2 TSP (5ml) of sugar. I use whole, unrefined sugar.
How:
Chop all the vegetables into bite 

sizes, and set them aside. I find it's more inviting to eat if I cut everything nice and make it pretty.

Finely chop the garlic, and set it aside.

On medium heat in a frying pan, fry the garlic 'til golden crispy. Then add the onion, and fry 'til it looks wilted and translucent, and next add the rest of the vegetables in and stir fry them together thoroughly.

Add soy sauce, followed by sugar, and mix well.

Taste to see if you need to add more soy sauce or sugar.

Done. Enjoy it with a bowl of fermented rice!

Do you like Vegan Sweet and Sour Vegetables? Please share with me–I'd like to hear from you!