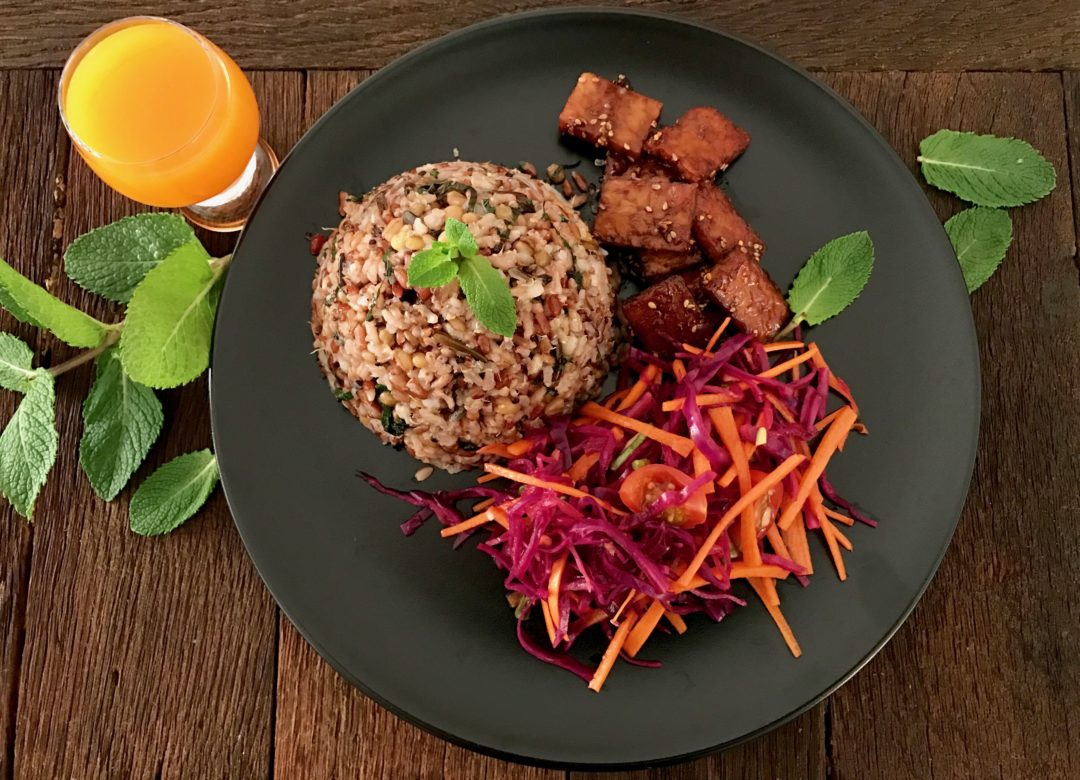 Coconut Rice with Somtam (Thai Papaya Salad) and Teriyaki Tempeh is the best combination of aromatic, savory, tangy and sweet.
I remember that we were all so happy, when my mother made this Coconut Rice as a special treat for us. It's especially tasty when she made it with Thai Jasmine white rice.
One day, when I was heating my leftover cooked rice,  I used a little bit of coconut oil, fried the rice, and sprinkled a pinch of himalayan salt in. It turned out so good, and reminded me of my mother's coconut rice–only easier and faster to make.
Ever since, I make this Coconut Rice dish very often, and have created new meals using it with som-tam and Teriyaki Tempeh. They go together incredibly well. To make it even more aromatic, I add a few leaves of mint in–imagine that!
Things you need to make Coconut Rice:
A bowl of cooked-rice. You can use white rice, brown rice or any kind that you like (I use fermented, mixed, whole grain rice)

1 TBSP (15 ml) or more of coconut oil

A pinch of good salt (depends on how you like it)

Some mint leaves
Note: see the link to my other posts on how to make  Somtam, and Teriyaki Tempeh
How:
Heat the oil on medium heat in a frying pan. When the oil is hot, add the rice in and fry it 'til it's covered with the oil. Sprinkle in the salt, and roughly chop the mint and add it to the rice. Roughly mix everything again. Done!

Enjoy it with Somtam and Teriyaki Tempeh–or any other dishes you like!
Have you had coconut rice before? Please share your experience with me–I'd like to hear about it!