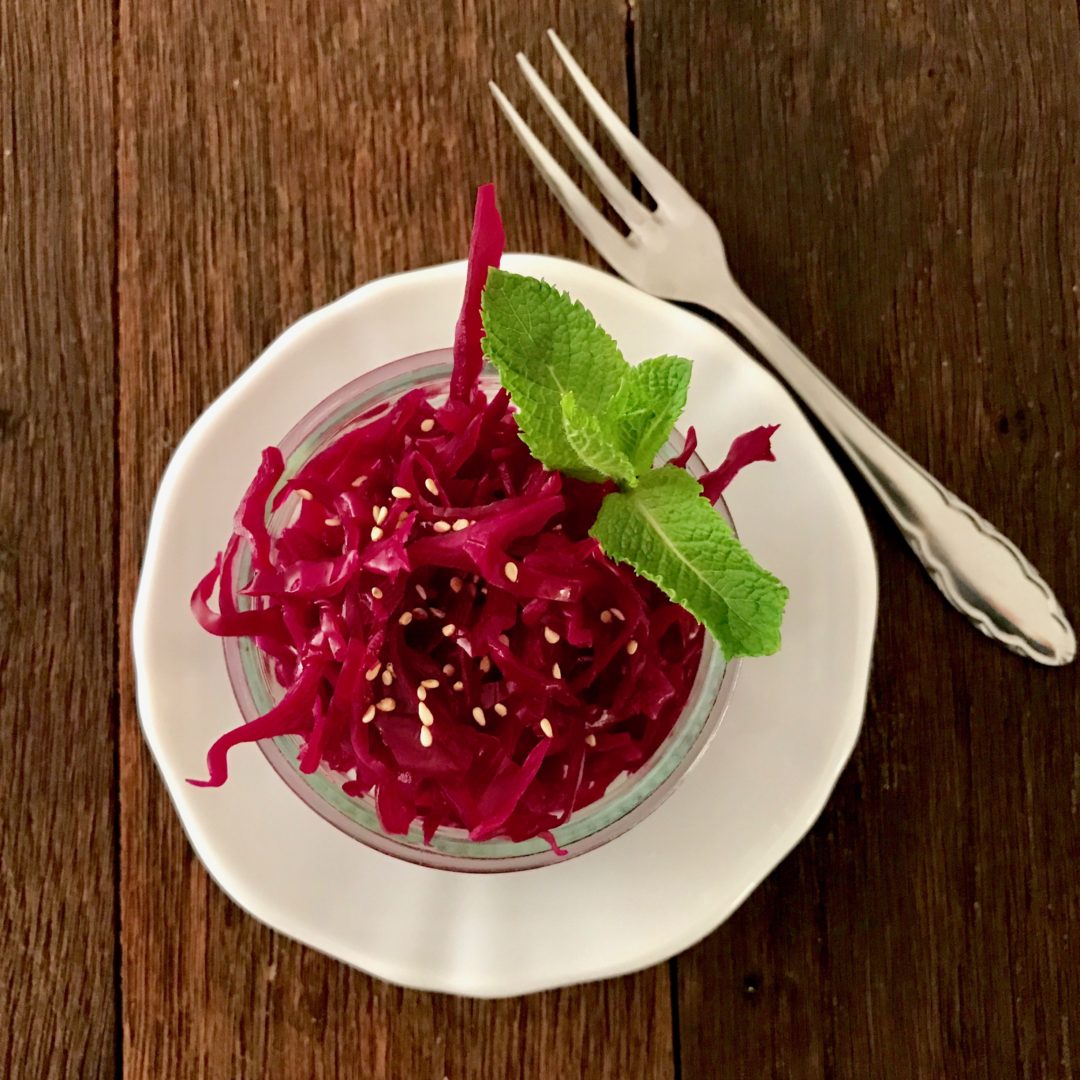 Red Cabbage Sauerkraut is the prettiest homemade probiotic I know. It contains loads of good bacteria known to be great for your gut–right from your own kitchen!
Here is a link about the benefits of eating sauerkraut that I think you might enjoy reading.
I make sauerkraut a lot, and like to keep it on hand in the fridge. It's simple to prepare, with only cabbage and salt. However, making Red Cabbage Sauerkraut, I add water to give it some extra brine as red cabbage is a bit tougher and doesn't make enough liquid on its own. It always comes out great.
Things you need to make Red Cabbage Sauerkraut:
A medium size red cabbage

1 glass jar with a lid: a ½ gallon (2L) mason jar works fine

A small jar & a lid, or something heavy to weigh down the cabbage when it's in the jar

1 TBSP (15 ml) of sea salt

½ cup (120 ml) or more of filtered water
How
:
Take off the outer leaves, wash them thoroughly, and save them to cover the cabbage in the jar.

Thinly chop the cabbage, discarding the hard spine. You can use a mandolin if you prefer, but I just chop it with a knife.

Put the cabbage in a mixing bowl, and sprinkle the salt in, then massage it thoroughly and let it sweat for about 30 minutes to 1 hour.

Massage it again, and add a ½ cup of water, then massage it some more. If it still doesn't have enough water to cover the cabbage when pressed, just add more water and massage it over again.

Pack the mixed cabbage tightly in the glass jar. Make sure it's all covered under the liquid.

Wash the outer leaves saved earlier, and use them to cover the mixed cabbage.

Fill the small glass jar with filtered water and place it over the cabbage leaves. Press it down  to make sure everything is under the liquid level, then close the lid.

Place it on the counter for 4-5 days, but open the lid to burp it every day. Then, move the jar to the fridge for slow fermentation for another 2-4 weeks. Taste it to see if it's sour enough for your liking. I leave mine in there about 4-6 weeks, and it usually comes out just perfect the way I like.

Enjoy a little bit at a time, but often!
Note: The liquid part will dry up once in the fridge, and that's normal. Don't be stressed out by it. Mine does fine with very little liquid left and has never gone bad. Even after 1 month from being done–it still tastes great.
Have you made Red Cabbage Sauerkraut before? Please share it with me, I'd like to hear about it!