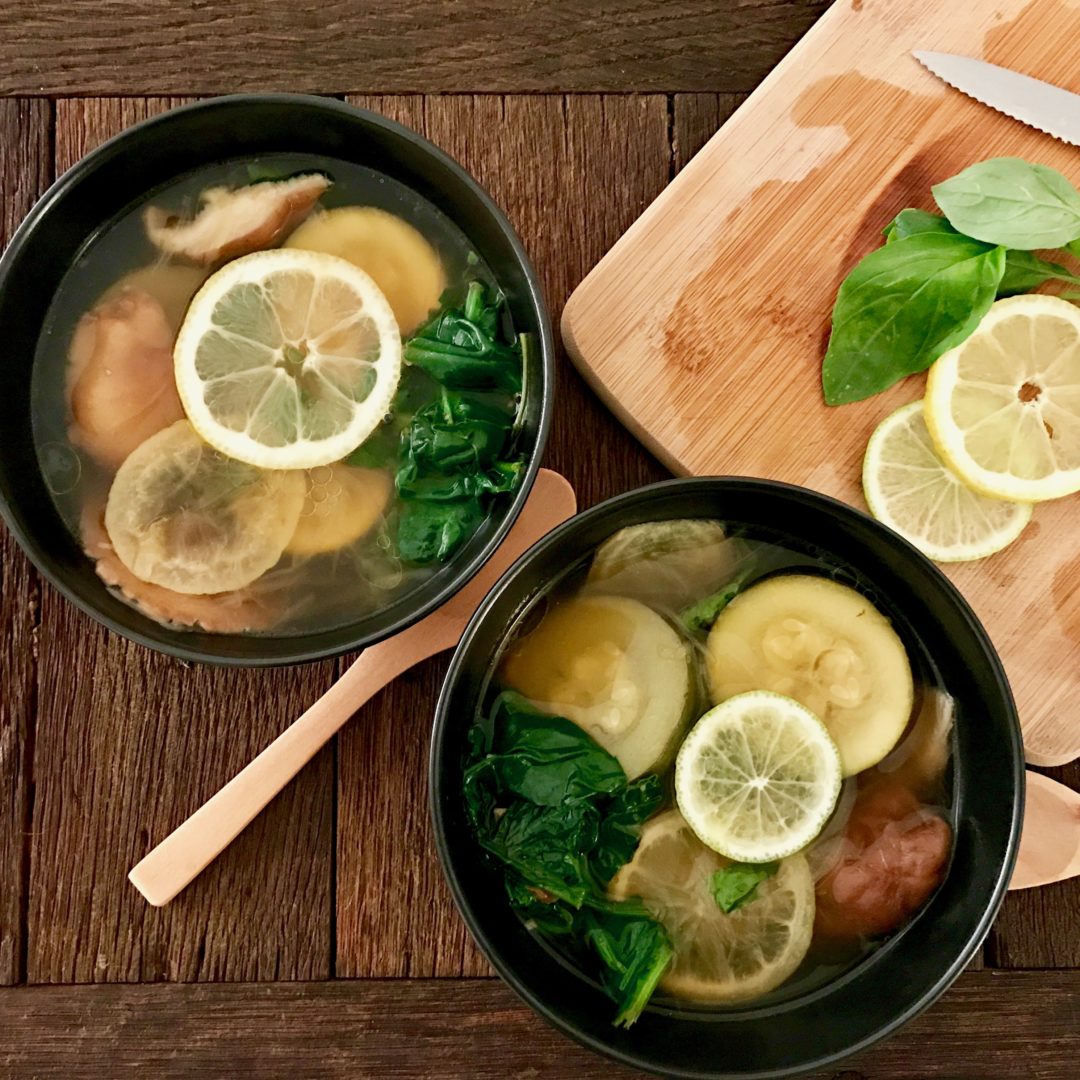 Lemon & Lime Soup is the best way to eat lemon and lime rinds that are loaded with health benefits, that most of us are not aware of. It's a very fresh, tangy, aromatic, and most of all healthy soup!
In Thailand, the land known for its delicious and healthy foods, I grew up eating a soup dish called chicken & pickled lime soup, or in Thai "Gai Toon Manao Dong." That was a long time ago when I was still a meat eater.
In the soup, they use whole, pickled limes, chicken, Thai winter squash, and shiitake mushrooms along with other spices. Then, they slow cook it 'til everything is soft, and well-blended with incredibly aromatic smells. Even though the taste is quite bitter, it's very delicious in a unique way.
It's known to be one of the best healing soups when you are sick. Most Thai people believe that bitter food is good for you, and we have a saying to makes us feel good when eating something bitter: "bitter is medicinal."
As a young kid, I was surprised that I didn't mind the bitterness of it. In fact, I even asked to eat this soup on my own sometimes. Hmm. . . my healthy eating habits must be in my blood.
Thai people have a few ways of eating lemon and lime rinds, and another common way is to eat them with miang kham–a tasty appetizer dish. As my whole family including my teen daughter loves eating the lime rinds, this Lemon & Lime soup is always on our menu.
However, the way I make it is not the same. Like most of my foods, I adapt it to fit the way we eat and live: to be simple and practical. I don't make it with chicken, and I use fresh lemons and limes instead of pickled. I also add a lot of fresh basil to give the soup extra fragrance.
Talking about it makes me hungry. Would you like to make it with me?
Here's what you need to make Lemon & Lime Soup:
2 cups (500 ml) of water ( you can use vegetable stock if you prefer)

2  medium size zucchinis

A lemon & a lime

5-6 Shiitake mushrooms

2-3 stems of basil

½ inch (1.3 cms) of ginger

A ¼ of an onion

1-2 TBSP (15-30 ml) of olive oil

½ TSP (2.5 g) of salt

A pinch of sugar (optional)
How:
Cut the zucchini into thick slices about ¾ of an inch (2 cms)

De-stem the mushrooms and cut them into halves or quarters depending on size.

Chop the onion and ginger into thin pieces.

Heat about 1 TBSP (15 ml) of the oil and fry the onion 'til golden brown, then add the ginger and roughly sauté.

Add water, and bring it to a boil, then put the zucchini in and cook 'til it boils again.

Meanwhile, get the lemon and lime sliced into thin pieces, de-stem the basil, and put it aside.

When the soup boils, and the zucchini is cooked, add the salt and sugar followed by the lemon and lime pieces, then bring the soup to a boil again.

Taste to see if you need more salt or sugar, then turn the heat off.

Add the basil followed by the olive oil, and stir it gently.

Serve warm and enjoy!
Note: I like to eat mine with sauteed vegetables such as spinach, broccoli or kale
Have you had Lemon & Lime soup like this before? Please share your experience with me, I'd like to hear about it!