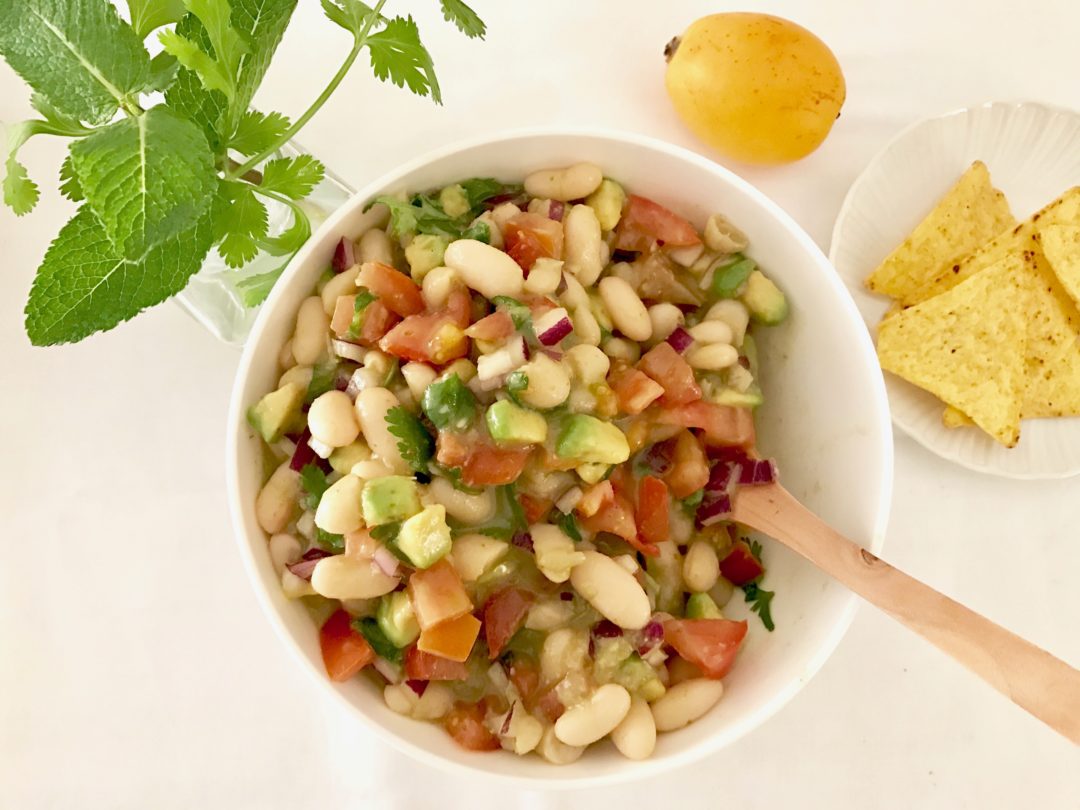 Fermented Bean Salsa ideas always come to mind when I want to make a quick and easy, yet healthy appetizer. It's so good for when we crave Mexican-American type foods, and also great for entertaining guests before meals, or simply for taking to picnics and potlucks!
Why fermented beans you may wonder? In case you are not familiar with fermented beans, let me pass on some info I have learned in the past few years. All beans and legumes contain anti-nutrients that make it hard for our bodies to digest them. Fermenting and sprouting before consuming them are the best way to to reduce the anti-nutrients, and to make the beans more digestible, thus causing less gas.
Other benefits you get from cooking your own beans are staying away from the BPA in can linings, and helping to reduce container use.
If you want to know more reasons why I ferment beans (and whole grains) check out my post about why I ferment whole grains. 
However, the process of fermenting and sprouting requires some time, and is probably the reason why most people and canned bean companies don't do it. So, the best way is to do it by yourself. I found it's hard at the beginning, but not once I got used to it. With some planning, I always have fermented beans on hand.
Now, let's go back to making salsa with beans. Salsa is the easiest dish to put together with most items you have in the fridge or pantry already such as beans, onions, tomatoes and avocados.
Here are things you need for Fermented Bean Salsa:
1/2 cup (170 g) of either black or white beans. I soak the beans I use for 2 nights before I cook them (you can use canned beans if you don't have time to go through the fermenting process).

2 tomatoes

An avocado

1 lime

A small to medium size red onion

2 TSP (10 ml) of cumin

1 ½ TSP (7.5 ml) of salt

1 TSP (5 ml) or less of sugar

½ TBSP (2.5 ml) of sesame oil

A few stems of mint and cilantros

Serve: 2-4
How:
Get the beans ready. (I take the beans out of the freezer a few hours before making it).

Dice the tomatoes, onion, avocados, and put them in a mixing bowl.

Add the beans including their juice from being thawed (if you use canned beans, I suggest draining them first as they contain high sodium)

Squeeze the lime in, add salt, cumin, sugar and mix well. Taste and adjust to your liking.

Add chopped cilantro and mints followed by the sesame oil.

Mix and taste again.

Grab a bag of chips and enjoy!
Have you made fermented bean salsa? Please Share with me–I'd like to hear about it!