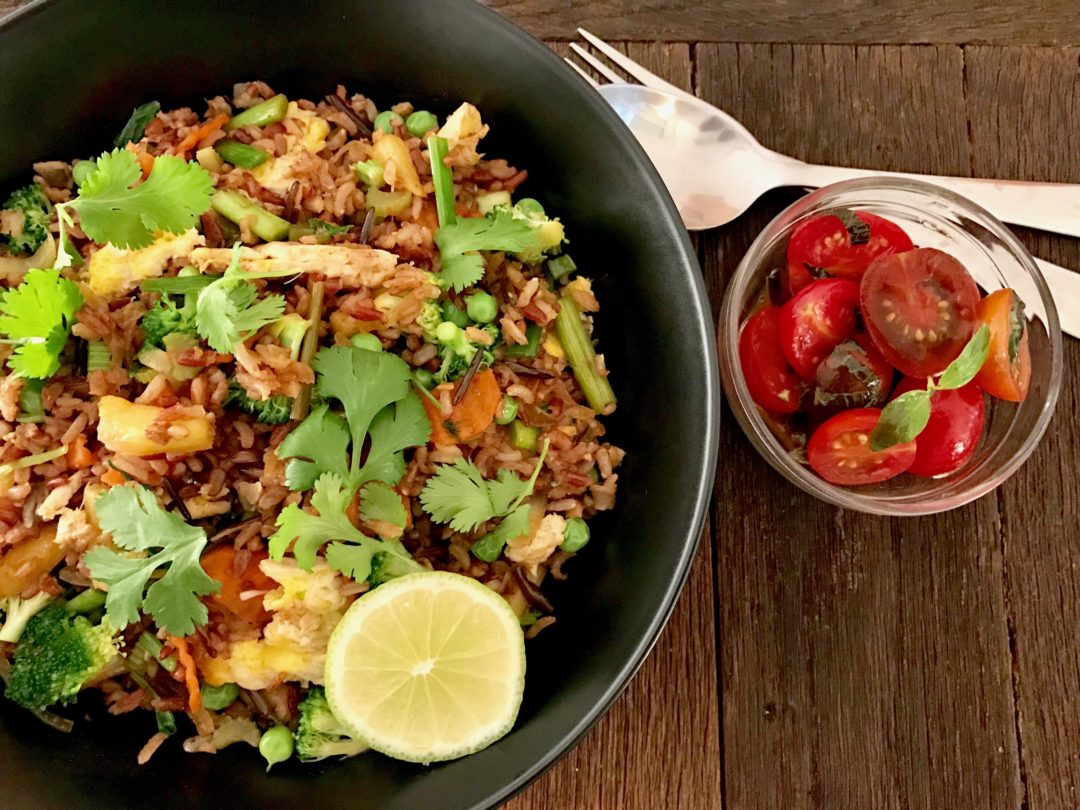 Vegetarian Fried Rice is an all-time Thai classic guaranteed to satisfy everyone–even picky eating kids who don't like trying anything new.
I don't usually make this dish as I feel like it's too typical. Recently, I had a very frustrating experience eating fried rice from a Chinese restaurant on a trip, and want to prove that Thai Vegetarian Fried Rice, packed with yummy vegetables, is really easy to make.
With a perfect combination of simple ingredients, I also go the extra mile, fermenting the rice  to make it even healthier, along with lots of vegetables.
Indeed, I can confirm after making it again that it's both easy and satisfying.
Things you need to make Vegetarian Fried Rice:
A bowl of cooked rice, either white rice or brown rice–your choice, but I use fermented whole grain rice

Some mixed fresh vegetables such as: carrots, broccoli, pineapple, green onion, onion, green peas, and cilantro. I opt out of tomatoes as they always make fried rice come out a little bit too mushy, but serve them as a separate salad instead.

1 egg. I use free-range eggs from happy chickens. (to make it vegan–simply skip the egg)

1-2 cloves of garlic

1-2 TBSP (30 ml) of soy sauce

2 TSP (5 ml) or less of sugar. I use whole-unrefined sugar

1 TBSP or more of coconut oil

Black pepper (optional)
How:
Chop the vegetables into bite sizes, shell the peas and set them in a plate.

Finely chop the garlic, thinly slice onion, and leave them on a chopping board.

On medium heat in a frying pan, heat a little bit of coconut oil, and scramble the egg with a squirt of soy sauce and set it aside.

In the same pan, add more oil and fry the garlic 'til golden crispy. Then add the onion, and fry 'til it wilts and becomes translucent.

Add all the vegetables, and stir fry them thoroughly with the garlic and onion. Put in the soy sauce and sugar, and stir fry all well.

Add the rice and mix all very well, and taste to see if it needs more soy sauce or sugar, then add cilantro in and stir thoroughly.

Serve warm with a piece of lime, and a side dish of tomato salad.

Enjoy!
Have you made fried rice this way? Please share it with me, I'd like to hear about it!