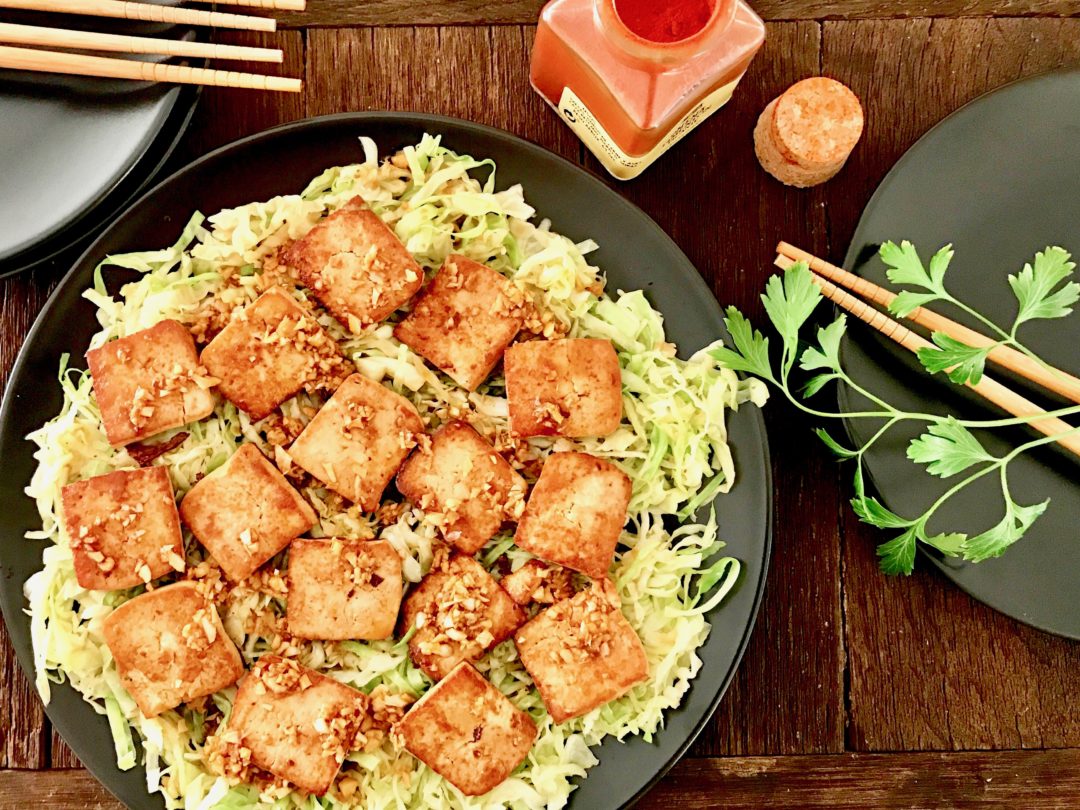 Stinky Tofu is a famous snack both in China and Taiwan. If you go there and don't get to try Stinky Tofu, you are not there!
I lived in Taiwan for a year, and I loved having Stinky Tofu as a snack or sometimes, even for a light dinner. The combination of the special marinated tofu, sautéed cabbage, and the spicy sauce give a very unique flavor. It's the first thing I used to ask for whenever went back to Taiwan.
However, soon after I learned the secret ingredient to make the traditional stinky tofu was fish or shrimp, and I stopped buying it completely. I tried searching for vendors who make Stinky Tofu without marinating tofu with fish, but there were none. So, I started to experiment my own way. Unfortunately, no matter how much I tried, I can't make it the same.
I gave up trying to make it to be the same, and started doing it my own way. With just simple ingredients, pan fried instead of deep fried, and the Stinky Tofu vegan style is very healthy and tasty. Are you ready to give it a try?
Things you need to make Stinky Tofu–Vegan Style:
A block of firm tofu.

1-1 1/2 cups (8-12 oz) of water

2 TBSP (30 ml) or more of miso paste
Sauce:
1-2 TBSP (15-30 ml) of soy sauce, sugar and lemon juice

2 cloves of garlic

A little bit of ginger
Note: you can add some chilli flakes if you want it to be spicy
Sautéed Cabbage:
¼ of a green cabbage

2 cloves of garlic, or you can use of fried garlic if you already have it

1 TBSP (15 ml) of coconut oil

½ TSP (3 g) of salt and sugar
How:
Cut the tofu into a rectangular sizes.

Mix the miso with water and marinate the tofu for 1 night.
After one night
Drain the tofu and put it aside.

Start by preparing the sauce:
Chop the garlic, ginger and put them in a small bowl.

Add soy sauce, lemon juice, sugar to the bowl and mix well.

Set the sauce aside.
  Chop the garlic, and the cabbage. Fry the garlic 'til crispy gold and saute the cabbage, and add the salt and sugar. Taste it and put it in a serving plate.

 On medium heat, heat the coconut oil in a frying pan. When the oil is hot fry the tofu 'til crispy gold, and lay the pieces over the sauteed cabbage. Break the tofu roughly, so it can absorb the sauce better. Pour the sauce over and enjoy!
Have you had stinky tofu before? Please share it with me–I'd love to hear about it!