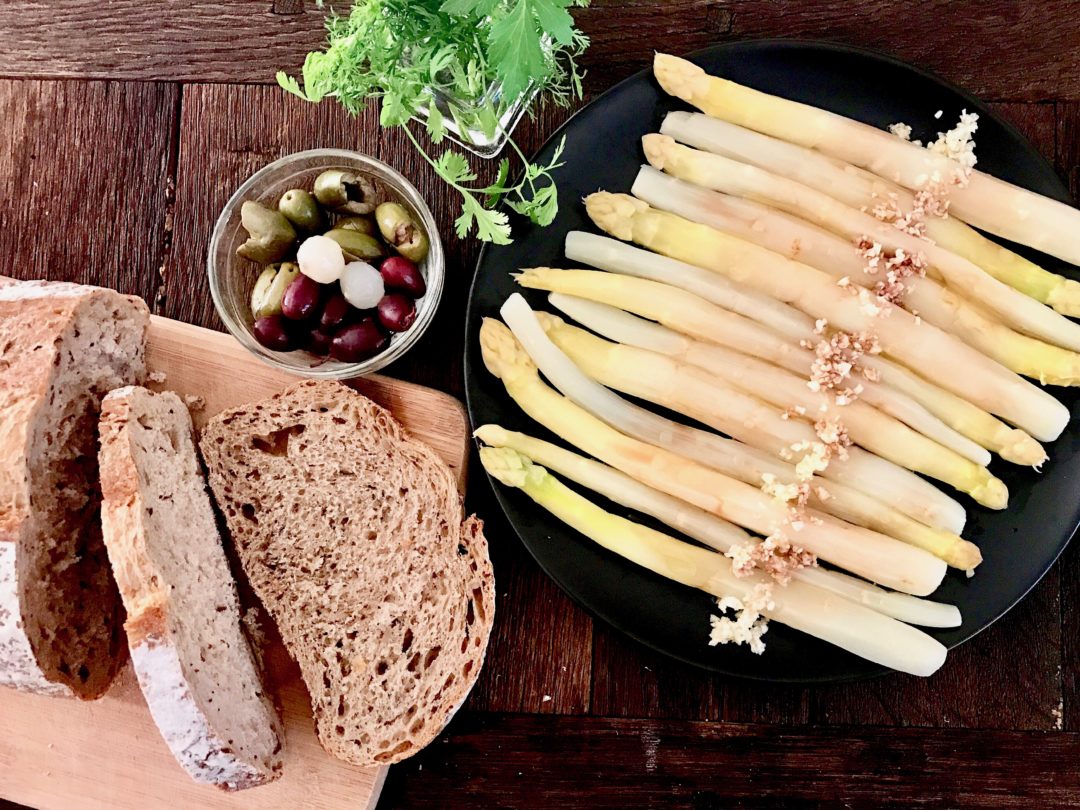 White Asparagus is a famous appetizer in Spain. You can cook or buy them easily everywhere in the north. They are so pretty, tasty, and most of all very healthy!
I'm sure most of us know how healthy asparagus is, although green asparagus is more common for cooking than the white variety.
Living in spain, we cook White Asparagus more as it is available locally, especially from early April on when they come into season. Even though we eat them as an appetizer, they are very filling, and can end up being full before dinner–that's actually nice and easy!
However, cooking White Asparagus requires more work as they are bigger, tougher, and the skin is more bitter than green asparagus. First, we have to peel the skin, then boil them 'til they are soft. From there, we can either eat them plain with vinegar and olive oil, or use them in other dishes.
There is a special kind of a tall pot for cooking asparagus that most people have in Spain, but since we don't, I use a regular pot I have, and it works fine.
Things you need to cook White Asparagus:
A medium size pot, or if you have a tall and narrow asparagus pot, even better

Filtered water

About 1kg (2 pounds) of fresh white asparagus

1-2 TBSP (18-36 g) of good salt. Sea salt, and himalayan salt are good options

4 TBSP (60 ml) of fresh squeezed lemon juice

2 TBSP (30 ml) of olive oil for cooking–add more to your liking. I use extra virgin olive oil

1-2 cloves of garlic (optional)
How:
Fill the pot halfway with water, and put it on the stove on medium heat. Meanwhile, clean the asparagus thoroughly.

Peel them using a peeler or a knife, and use fingers to snap off the tough part off if they are too woody to eat.

When the water gets to a soft boil, add the lemon juice, salt and olive oil in, and give it a quick stir.

Put the asparagus in with the spear part above the water, so the tougher part is under water.

Bring the water to a boil and let it cook for about 5 minutes, then turn the heat down to medium and let it continue cooking 'til they are tender (about 15 minutes). Use a tong to turn the spear part so it's under water for 3-5 minutes, then turn the heat off, but let them sit to absorb the flavor for a little bit longer, (about 5-10 more minutes). Rinse the water off.

Arrange them on a plate, top with minced garlic, drizzling some olive oil and vinegar on top, or lemon juice. Be creative and enjoy!
Have you cooked White Asparagus before? Please share it with me, I'd like to hear about it!