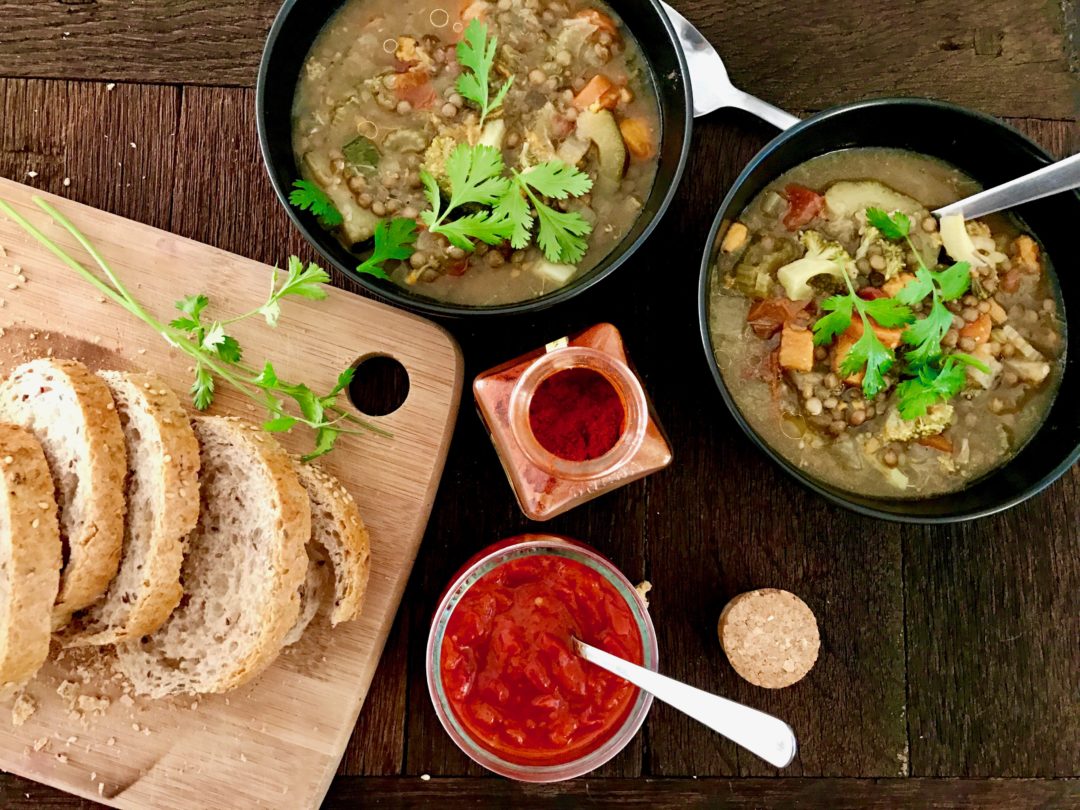 Vegan Lentil Soup is healthy with no doubt, but if you want to go the extra mile, making ordinary, lentil soup extraordinary–try this!
Even though it looks just like normal healthy lentil soup with a lots of vegetables, the lentils have been fermented, and are sure to be easily digestible.
I used to prepare it with dried lentils, but when I learned how to prepare whole grains, beans and legumes in a traditional way, I started to ferment lentils first too.
The fermentation process gives the Vegan Lentil Soup extra flavor too, although it does require some planning. Since I learned the benefits of fermenting, it's been hard going back to using dried lentils. Let's try it together.
Things you need for Vegan Lentil Soup:
2 cups of filtered water, you can use vegetable stock if you prefer.

¾ cup (255g) of lentils, either red or green.

Note:

If you want to ferment them, just soak with filtered water and 1 TBSP of acid solution such as lemon juice or apple cider vinegar for 2 nights (change the water each night)

1 medium onion

Approximately ½ cup (170 g) of each vegetable such as carrots, sweet potatoes, celery, zucchini, broccoli and 2 medium tomatoes

2 TBSP (30 ml) olive oil. 1 TBSP (15 ml) to fry the onion, 1 TBSP (15 ml) to add to the soup when done

1 TBSP (15 ml) apple cider vinegar

1 TSP (5 g) ground cumin

1-2 TSP (5-10 g) salt

½ TSP (2.5 g) fresh ground black pepper (optional)

A pinch of sugar (optional) Note: This makes about 3-4 generous servings.
How to:
Rinse the soaked lentils, and darin.

Note:

If you use dried lentils just skip the soaking part, but still rinse well.

Thinly chop the onion, and cut all the vegetable into small bite sizes.

In a pot on medium heat, heat 1 TBSP (15 ml) of the olive oil and fry the onion 'til translucent, and add the lentils. Sautee them thoroughly, then add the remaining vegetables and mix them together with the lentils and the onion.

Add water, stir well and bring to a boil. When it boils, turn the heat to low and sim 'til everything cooks thoroughly.

Add vinegar, cumin, salt, black pepper and sugar, and adjust the taste to your liking.

Add another 1 TBSP (15 ml) of the olive oil, and turn off the heat.

Serve warm with bread and some hot sauce if you like, and enjoy!
Have you made Vegan Lentil Soup like this before? Please share it with me–I'd like to hear about it!