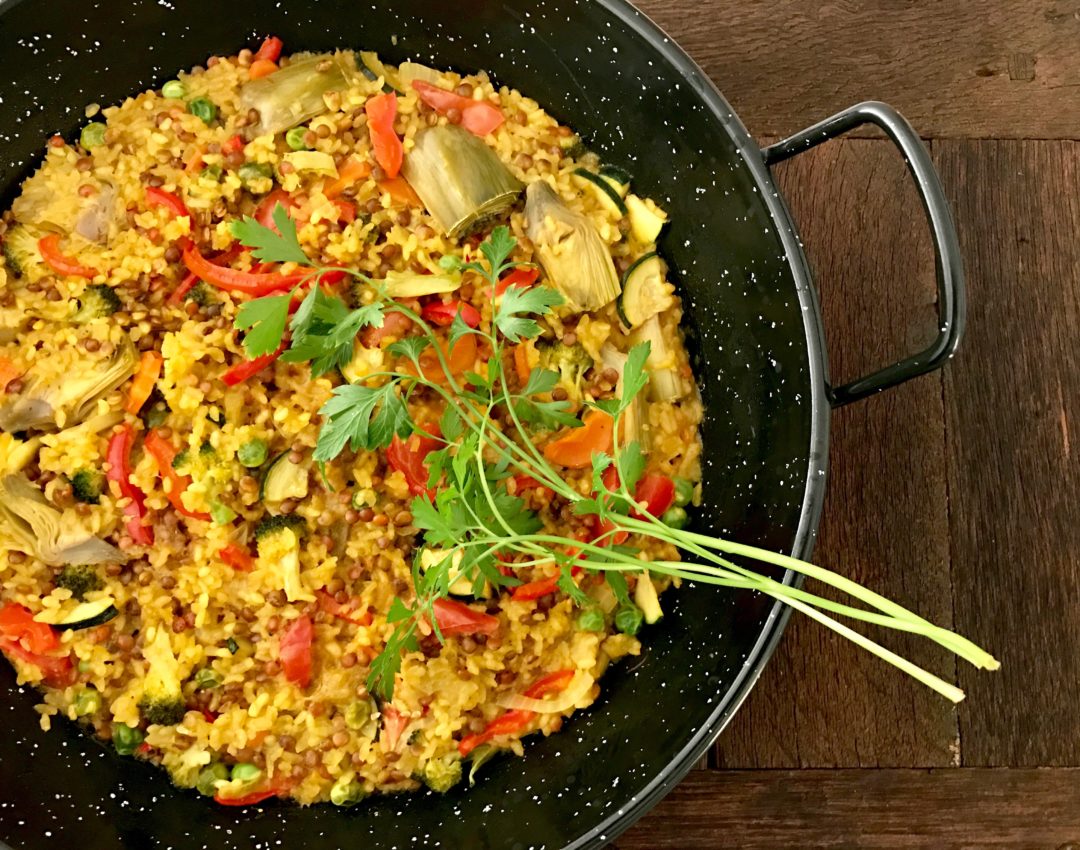 Vegan Paella can easily becomes your favorite dish: Simply replace the meat from the original paella recipe with vegetables!
Besides our fond memories of living in Spain, another thing that will be a part of our lives from now on is the food. We have adapted a few Spanish foods to fit the way we eat, and while we are still here, I'd like to introduce how I make our favorite Vegan Paella with you.
Paella is a famous dish that's easy to find in most restaurants, and it has a long and fascinating history.
There are a few things people here say they can't make paella without, and bomba rice, a paella pan, and saffron are on top of this list.
The reason to use Bomba rice because it can absorb the juice and flavor better than other kinds of rice. Even though Bomba rice is not too hard to find in my area, the small organic store I buy most groceries from doesn't carry it. They say it's hard to get it organically, so I substitute regular white organic short-grain rice for it instead–and that works fine too. Short-grain rice can absorb the juice better than long-grain rice, and the nutty flavor after cooking makes paella taste unique.
To cook paella, we don't stir it the pan, but we shake it once in a while to prevent it from sticking to the bottom. With paella pans being shallow and wide, they make the shaking easier to handle. The big and flat pan also allows the rice to cook evenly. However, not having a paella pan I just use the pan I have. It's not too shallow but has a wide bottom, and the rice cooks evenly enough.
As for the saffron, it's very expensive and a little bit hard to find, but I can get it at one of the stores in my neighborhood. Honestly, to get the taste and color I want, I have to mix it with turmeric powder & paprika too. After a few times making it, I know that only turmeric and paprika powder work just fine.
Things you need for making Vegan Paella:
Note: This makes about 4 generous servings.
A wide bottom pan

¾ cup (255 g) Bomba, or white short-grain rice

¼ cup (85 g) dried lentils, either green or red. I

soak

the lentils prior to use for 2 nights, and you can do it too if you prefer

fermented lentils

About ½ cup (170 g) or more of each vegetable: carrots, broccoli, red bell pepper, green peas, zucchini, tomatoes, cooked artichokes, and fresh parsley to garnish

2 cups (474 ml)

vegetable stock

.

Note:

If you don't have stock on hand, dont worry. Most of the time I just use water as we have a lot of vegetables in the recipe already, and the dish turns out as nutritious as using stock.

1 ½ – 2 cups (355-474 ml) filtered water

2 TBSP (30 ml) olive oil. I use extra virgin olive oil

1-2 TSP (5-10 g) salt. I use Himalayan salt

1 TSP (5 g) of turmeric and paprika powder

½ TSP (2.5 g) of saffron, and fresh ground black pepper (optional)
How:
Soak the lentils for two nights prior to making the dish if you would like them fermented. If not, just skip this part.

Boil the artichoke if you use fresh.

Rinse the rice and lentils thoroughly, drain them well, and set them aside.

Chop all the vegetables into bite sizes, but thinly chop the onion.

In the pan on medium heat, heat the olive oil and fry the onion 'til it turns translucent.

Put the rice and lentils in, and roughly mix them with the oil and onion, then add water and cook 'til it evaporates.

Add the turmeric & paprika, and saffron in. Mix well, then a

dd the vegetables follow by the vegetable stock and mix well. Add the salt, and pepper, taste and adjust the flavor to your liking.

Cook on low heat, and shake the pan once in awhile. It usually takes about 35-45 minutes to be ready.

When it's done, garnish it with parsley and serve.

Enjoy!

Have you made Vegan Paella before? Please share it with me–I'd like to hear about it!